Trending:
Grated rhubarb pie: how to make a crispy and crumbly dough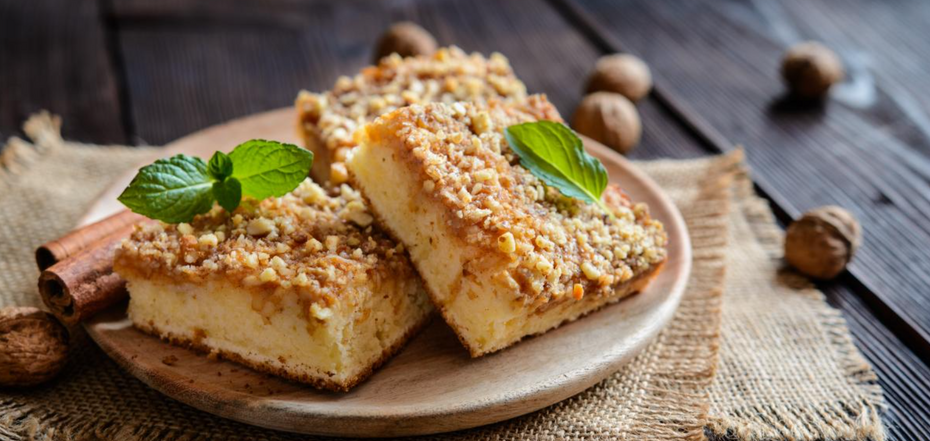 Rhubarb grated pie recipe. Source: depositphotos.com
Grated pie is a simple and quick homemade pastry for tea. Traditionally it is made with your favorite jam or jam, less often with fresh or frozen berries and fruit, as well as cottage cheese.
Foodblogger Daria Dariko(receti_dariko) on her Instagram page shared a recipe for grated rhubarb pie, the dough for which is prepared with margarine and is very tender, crumbly and crispy.
Ingredients:
eggs - 2 pcs.
sugar - 150g + 2-3 tbsp.
salt - a pinch
margarine or butter - 200 g
mayonnaise - 80 g
baking powder - 1 tsp.
flour - 400-450 grams
rhubarb - 500 gr
Method of preparation:
1. To prepare the dough, mix the eggs with salt, sugar and mayonnaise.
2. Pour the melted cold margarine, mix.
3. Pour in the flour and baking powder and knead the dough. It is easy to work, it is soft and elastic.
4. Divide the dough into two parts (1 and 2). Wrap the smaller portion in cling film and put it in the fridge for 30-60 minutes. Roll out the larger part and place it in a mold or on a baking tray.
5. To prepare the filling, wash, peel and dice the rhubarb. Place on the dough and sprinkle with sugar.
6. On top of the rhubarb rub the second part of the dough on a grater.
7. Bake at 180 degrees for 45 minutes. Slice the finished pie while it is still warm. Bon appetit!
Earlier OBOZREVATEL reported how to cook grated cake with jam for tea.