Trending:
Famous chef shares recipe for baked peaches with homemade cream cheese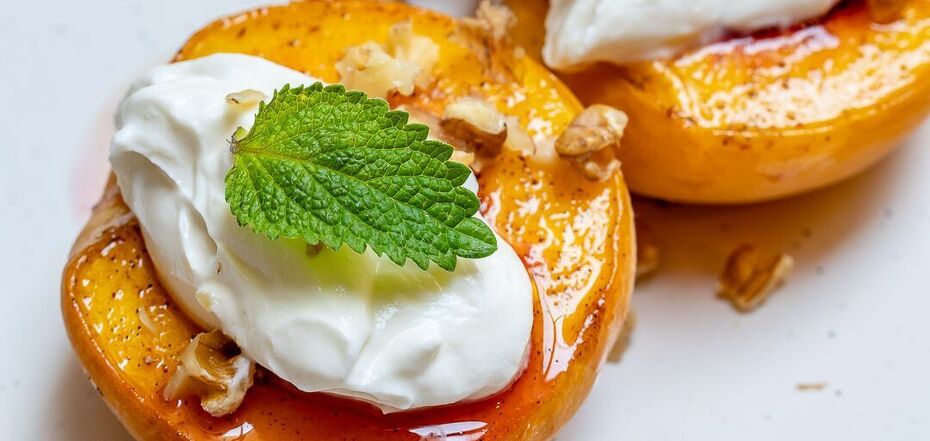 Peaches with homemade cream cheese. Source: cleanfoodcrush.com
Seasonal, juicy peaches and cream cheese are the perfect couple that makes a complete appetizer, especially if the cream cheese is homemade. You will only need 2 ingredients.
The idea of cooking baked peaches with homemade cream cheese is published on the Instagram page of the famous Ukrainian chef Volodymyr Yaroslavsky(yaroslavskyi_vova). The appetizer is very simple.
What you will need to make the cream cheese:
1 can of kefir (750 g)
gauze
Method of preparing the curd:
1. Place 2-4 layers of gauze on a sieve.
2. Pour kefir into it.
3. Cover and put in the refrigerator overnight.
4. You will have 250g of fresh soft cream cheese in the morning. If you make it for appetizers, you can add herbs, salt, spices and even olive oil.
Method of cooking peaches with cream cheese.
1. Bake the peach quarters with honey and fresh herbs in the oven for 20-25 minutes under foil at 200 degrees and 10 minutes without lightly browning.
2. Make toast from white bread (you can grease the bread with butter).
3. Smear the resulting cream cheese, top with a baked peach and add some honey.
Also on OBOZREVATEL you can find recipes: