Trending:
Elementary open plum pie: just melts in your mouth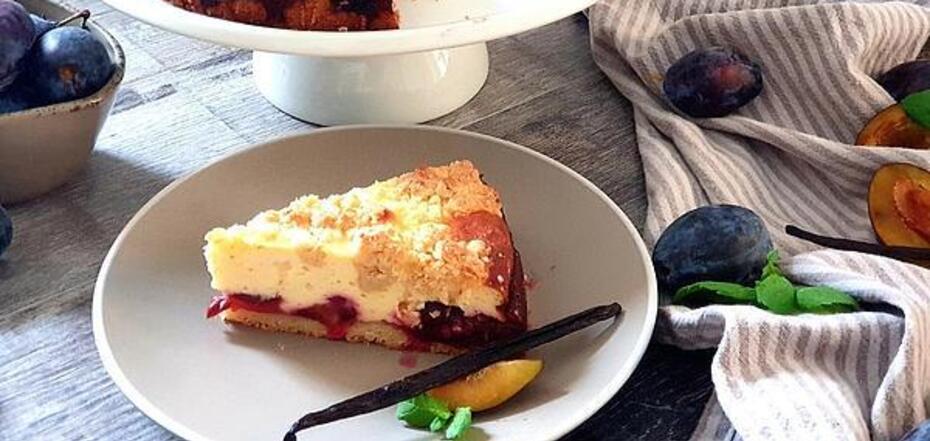 Elementary plum pie for tea. Source: bosskitchen.com
Autumn is a time of cozy evenings that smell like herbal tea and pies. It is a very good idea to choose plums as a filling for baked goods. Right now, the fruits are very sweet and juicy, with a pleasant sourness and a light sweet flavor.
The idea of making an open plum pie is published on the tastystories.feed culinary page on Instagram. You just need to cut the fruit and put it on the dough.
Ingredients for the dough:
flour - approx. 600 g
baking powder - 10 g
margarine or butter - 200 g
sugar - 1 cup (200 g)
sour cream - 1 cup
egg yolk - 4 pcs.
Ingredients for the filling:
plums - 1 - 1.5 kg
egg whites - 4 pcs
sugar - 1 cup (200 g)
Method of preparation:
1. Mash the yolks with sugar, add sour cream.
2. Finely chop the margarine with a knife and add to the yolks.
3. Add the flour and baking powder.
4. The dough should be soft. It may stick to your hands, in which case add a little more flour.
5. Grease a baking sheet with oil and sprinkle a little flour or put it on parchment.
6. Put the dough on the baking sheet.
7. Cut the plums in half and place them on the dough with the center up.
8. Preheat the oven to 180 degrees for 10 minutes.
9. Then reduce the temperature to 150 degrees and bake for 30 minutes.
10. Beat 4 egg whites with sugar until stiff peaks form.
11. Pour over the plums and put in the oven at 160 degrees for another 10-15 minutes.
12. Take out and leave to cool slightly.
You can also find more recipes on OBOZREVATEL: