Trending:
Eggs Benedict for breakfast: once used as a hangover cure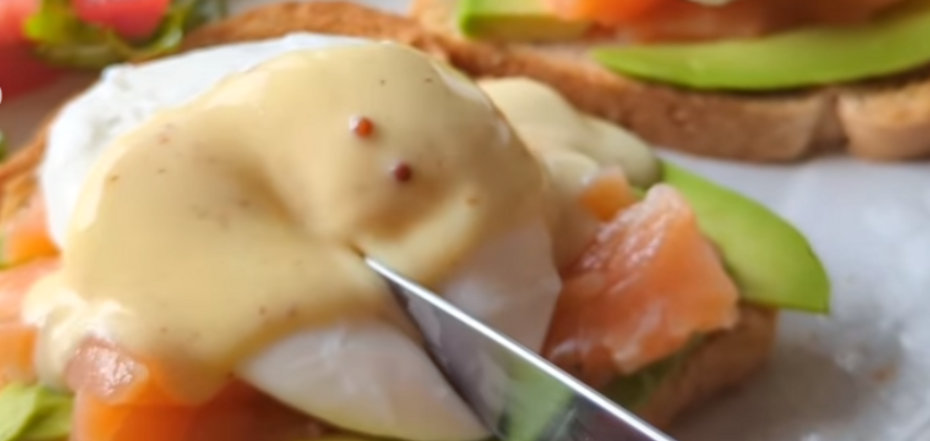 What's unusual about eggs Benedict. Source: Photo on nutritionist Natalia Kondratyuk's Instagram page
One of the most popular breakfast dishes in the United States is eggs Benedict. In 1942, Lumel Benedict went to a local hotel to find a cure for his hangover. He ordered toast with butter, hard-boiled eggs, bacon, and hollandaise sauce. And when the dish came out - the restaurant manager was so amazed that this culinary masterpiece became a breakfast staple that was then served to everyone. And now the dish hasn't lost its popularity.
The idea of making eggs Benedict for breakfast was published on the page of nutritionist Natalia Kondratyuk(kondratyuk_dietolog) in Instagram. This technique adds lightly salted salmon instead of bacon.
Ingredients:
slice of bread
egg
avocado - 40 grams
lightly salted salmon - 50 grams
Ingredients for the classic hollandaise sauce:
egg yolk - 1 pc
oil - 50 grams\
lemon juice - 5-10 ml
wine - 20-30 ml (as desired)
Method of making Hollandaise sauce:
1. Melt the butter over low heat or in the microwave.
2. Remove from the heat and allow to cool slightly.
3. In a saucepan over a water bath, whisk the egg yolk together with the lemon juice, salt and pepper.
4. Gradually add the melted butter, beating constantly with a whisk until you get a smooth, thick consistency of sauce. Remove from the heat and keep warm to prevent it from hardening.
Method of making Eggs Benedict:
1. Boil a poached egg in a convenient way.
2. You can toast the bread in a dry frying pan or toaster oven.
3. Pour a little sauce on the bread.
4. Put slices of avocado, fish, poached egg.
5. On top, pour more sauce over the egg.
Also on OBOZREVATEL you can read the recipes: