Trending:
Eggplant pate: how to prepare a budget and tasty appetizer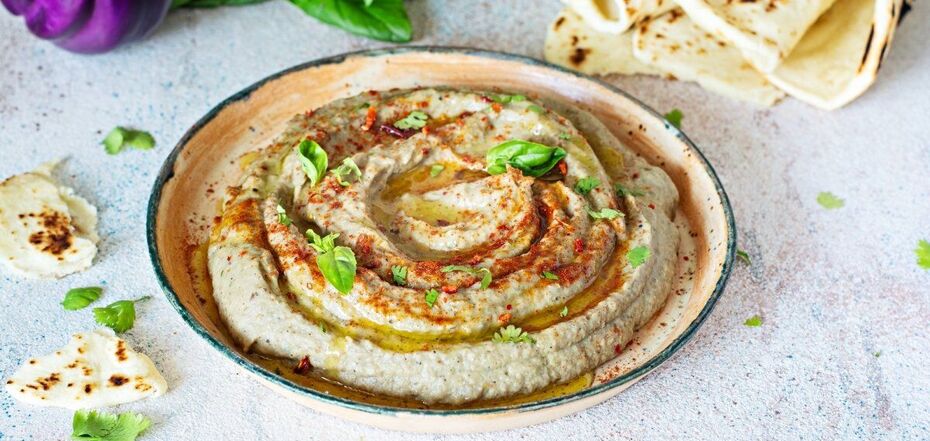 Eggplant pate. Source: depositphotos.com
Eggplants are not only the basis for salads or stews but also for appetizers. One of them is pate or as it is also called baba ganoush. For a bright flavor, the dish is complemented with tahini, cilantro, and garlic. When ready, it is eaten with pita or just bread.
Food blogger Vita Vorotniuk (vita_vorotniuk) shared a recipe for eggplant pate on her Instagram page.
Ingredients:
eggplant - 3 medium pieces
olive oil - 4-5 tbsp
garlic - 1 head
sesame seeds - 20 g
parsley - 3-5 sprigs
sour cream - 2 tbsp
lemon juice - 2 tbsp
ground pepper
salt
For serving:
basil/parsley
pomegranate seeds
sun-dried tomatoes or cherries
toasted sesame seeds
Method of preparation:
1. Peel garlic, wrap it in foil, and drizzle with olive oil. Put the eggplant next to it and prick it with a fork. Bake the vegetables at 240 degrees for 20 minutes.
2. Cool the baked vegetables and remove the flesh.
3. Add olive oil, lemon juice and sesame seeds to the bowl of a blender. Blend until well combined.
4. Then add eggplant and garlic and season with pepper. Blend again.
5. At the end, add sour cream and parsley leaves and blend again until smooth. Season with salt and pepper if necessary.
6. Put the finished paste in a container and leave it in the refrigerator for 1 hour to set. Enjoy!
You can also find more recipes on OBOZREVATEL: