Trending:
Delicious zucchini and eggplant caviar for the winter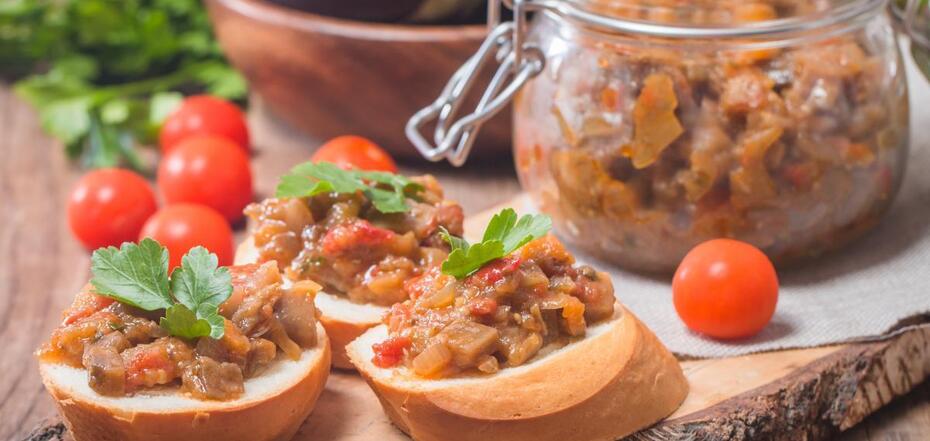 Eggplant and zucchini caviar for winter. Source: depositphotos.com
Make this caviar now so that not to think what to eat in winter It can be spread on bread and you will not be hungry anymore. In addition, the dish is quite budgetary, because it is made with eggplant and zucchini, the season of which continues.
The idea of cooking zucchini and eggplant caviar for winter is published on the Instagram page of food blogger Kateryna Movchan (katarina_movchan). The flavor is very spicy because there is garlic.
Ingredients:
1 kg zucchini
1 kg eggplants
500 g onions
400 g red bell pepper (can be replaced with yellow)
600 g tomatoes
4 cloves of garlic
bundle of fresh herbs (parsley and dill)
120 ml of oil
2 tbsp. apple cider vinegar
1 tsp. dry hot pepper (optional)
salt and pepper - to taste
Method of preparation:
1. Dice all the vegetables into small cubes.
2. Pour vegetable oil into a saucepan and fry onion until golden. Then add peppers and fry for 10 minutes.
3. Add eggplant, stir and stew for 15 minutes.
4. Add zucchini and simmer everything together for 20 minutes, stirring occasionally.
5. Finish the caviar to taste: add vinegar, salt, pepper, red pepper, garlic and herbs.
6. Pour the caviar into sterilized jars and close with lids.
7. Turn them upside down and leave to cool completely.
8. Store in a cool place.
Also on OBOZREVATEL you can find recipes: