Trending:
Delicious pizza with pear and cheese for lunch: how to prepare perfect thin dough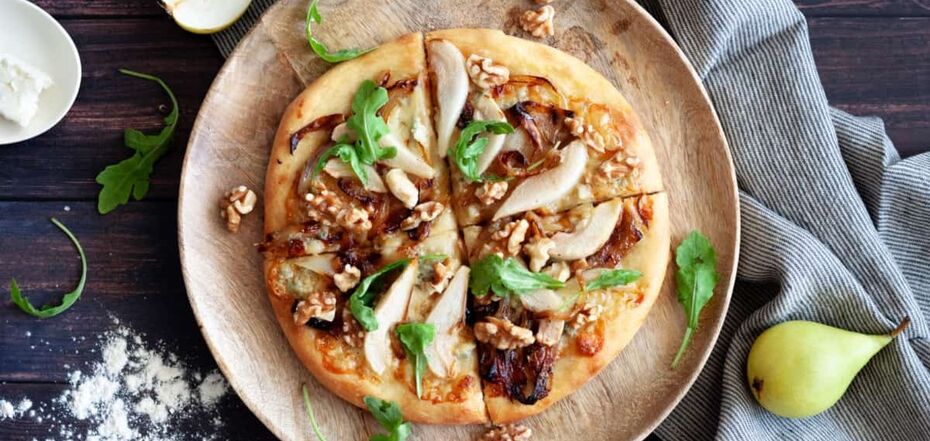 Homemade pizza made from perfect dough. Source: theclassybaker.com
Seasonal juicy pears are the perfect pizza topping. Combined with nuts and cheese, it is very satisfying. The most important thing is to prepare a thin dough. You will do this very quickly if you follow the right technology.
The idea of making a pear and cheese pizza for a hearty lunch was published on the Instagram page of food blogger Natalia with the nickname talli_sun. The yeast dough rolls out perfectly and does not dry out in the oven.
Ingredients for the dough:
flour - 320-330 g
sugar - 2 tsp.
salt - 1 tsp
water (warm) - 200 ml
yeast - 25 g
olive oil - 3 tbsp.
Ingredients for the filling:
pear (sweet, ripe, but hard)
cottage cheese (blue)
nuts
Italian herbs
honey
Method of preparation:
1. Pour the sugar and salt into a deep bowl and add warm water and yeast. Mix until completely dissolved.
2. Add to the flour and knead the dough.
3. Next, add olive oil one spoonful at a time and thoroughly mix it with the dough.
4. Knead well until the dough absorbs the oil.
5. Cover and leave the dough for an hour.
6. Divide the dough into 2 parts, roll it out a little, and then use your hands (grease your hands with oil) to stretch the dough on a mold (or on parchment paper, on which we will bake it).
7. Drizzle with olive oil, put thinly sliced pears and cheese, sprinkle with herbs and add chopped nuts.
8. Bake the pizza in the oven at 220 degrees for 10-15 minutes (depending on your oven).
9. Drizzle the pizza with honey.
10. Serve hot.
You can also find more recipes on OBOZREVATEL: