Trending:
Delicious eggplant rolls in a new way: a recipe for a delicious appetizer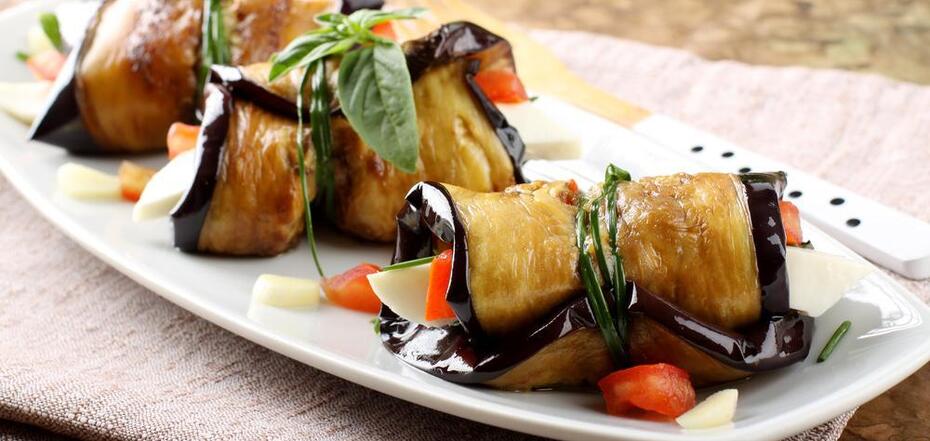 Eggplant rolls. Source: depositphotos.com
Eggplant rolls are a delicious and exquisite appetizer that will surprise guests at the holiday table. The dish is based on tender and juicy stuffing, savory spices or dressing and herbs.
Food blogger Tetiana Dudka (stilynavkus) shared a recipe for stuffed eggplants with feta, garlic and herbs on her Instagram page.
Ingredients:
eggplants - 2-3 pcs
olive oil
salt
Stuffing:
onion - 2 pcs
feta - 500 g
parsley
vegetable oil - 1 tbsp.
pepper
Dressing:
garlic - 2-3 cloves
olive oil - 60 g
liquid honey syrup - 1 tbsp. molasses.
Method of preparation:
1. First, you need to peel and cut eggplants into thin 4 mm thick slices. Put them on a baking tray covered with parchment, pour olive oil and sprinkle with salt. Bake at 180 degrees for 10 minutes.
2. To prepare the filling, cut the onion in half rings and fry until golden.
3. Chop parsley and feta and add to onions. Season with pepper.
4. Lay the baked eggplant slices on top of each other (for one roll you need 3 slices), smear with the filling and wrap first in a roll, then in the form of a so-called snail. Repeat with the rest of the ingredients.
5. Place the ready rolls in a baking mold, squeeze garlic on top and pour honey and oil over them. Bake at 200 degrees for 40-50 minutes. Enjoy your appetite!
Also on OBOZREVATEL you can read the recipes: