Trending:
Delicious beef stroganoff for mashed potatoes, porridge and pasta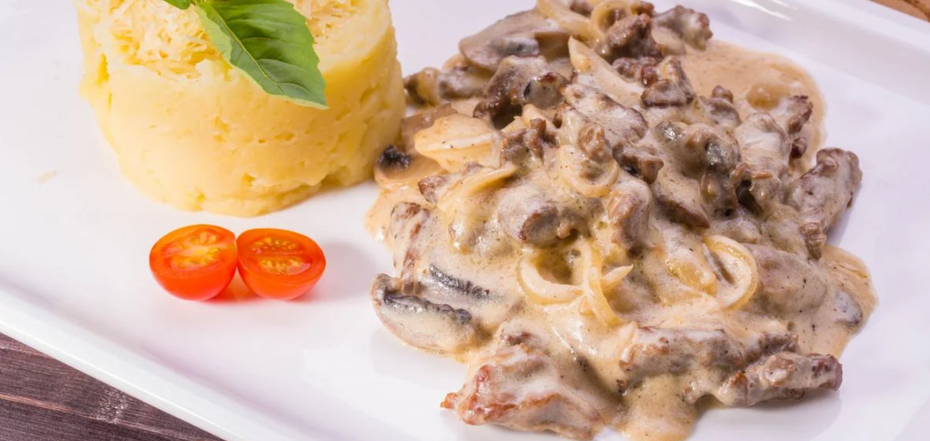 Beef stroganoff. Source: depositphotos.com
Beef stroganoff is stewed meat in a sauce. Traditionally, it is made from pork and beef, supplemented with tomato paste and sometimes mushrooms. Beef stroganoff is somewhat reminiscent of a thick gravy that is delicious with mashed potatoes, porridge and pasta.
Food blogger Alex Mil (mil_alexx) shared a recipe for beef stroganoff on his Instagram page.
Ingredients:
beef tenderloin - 600 g
vegetable oil\butter - 30 g
sour cream - 100 g
onion - 150 g
tomato paste - 40 g
salt, pepper
paprika - 10 g
water - 200-300 ml
flour - 3-4 tbsp.
Method of preparation:
1. Cut the meat into thin pieces. Put it in a frying pan heated with oil.
2. Add paprika, salt and pepper to the meat and fry until darkened on both sides. Transfer the meat to a plate.
3. Cut the onion into half rings and fry in vegetable oil or butter for 5 minutes.
4. Add flour, tomato and paprika. Stir-fry for 1 minute.
5. Add water and sour cream, mix everything thoroughly and add meat. Simmer for 8-12 minutes until thickened. Enjoy your meal!
You can also find more recipes on OBOZREVATEL: