Trending:
Delicate berry soufflé that melts in your mouth: can be made with strawberries, blackberries or currants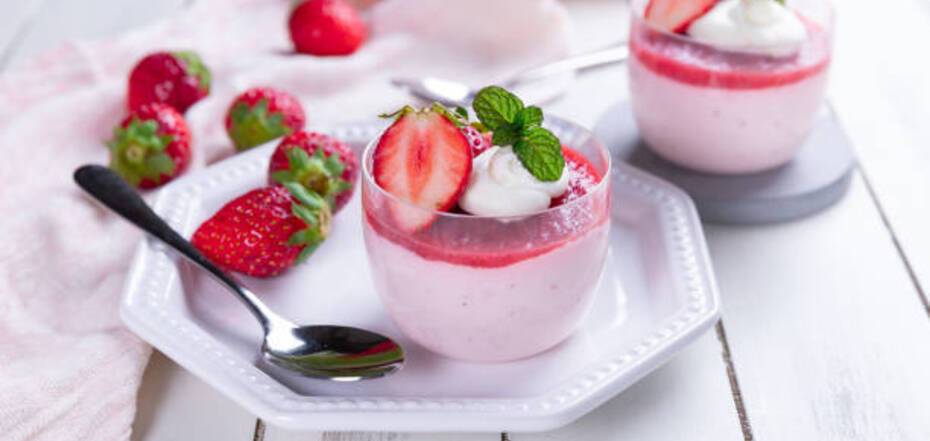 Airy berry soufflé with gelatin. Source: istockphoto.com
In summer, you always want light and nutritious desserts. Therefore, a berry soufflé will be ideal. It is based on cream and Greek yogurt, so the flavor turns out to be very delicate. The mass does not need to bake, and it perfectly holds its shape, because it solidifies due to the jelly.
The idea of cooking berry soufflé is published on the page of the famous Ukrainian chef LisaGlinskaya (lizaglinskaya) in Instagram. In the original recipe, the dessert is prepared with strawberries. But you can also use raspberries, currants and blackberries.
Ingredients:
400 g of strawberry puree (raspberry, currant, blackberry)
20 g gelatin (4 tsp.)
100 ml of water (1/2 cup)
50 g sugar (2 tbsp. with a slide)
200 g Greek yogurt or cream cheese
100 ml cream (30-35% fat content) (1/2 cup)
Ingredients for decoration:
fresh strawberries or other berries
Method of preparation of strawberry soufflé:
1. Mix the cold water with the gelatine. Leave the gelatin mixture at room temperature for 15 minutes.
2. Strawberries can be used fresh or frozen. Wash and beat with an immersion blender, we need a strawberry puree.
3. Pour the purée into a saucepan, bring to the boil and simmer for 2-3 minutes.
4. Add sugar to the puree and stir.
5. Add the swollen gelatin mass to the hot puree and stir.
6. Mix cream cheese and cream until smooth.
7. Combine the warm mashed potatoes with the cream cheese and cream. First one half of the puree, then the other half.
8. Cover the mixture with cling film and put it in the refrigerator for 1 hour.
9. Whip the mixture in the bowl of the food processor. If it takes 3-4 minutes and does not increase in volume, it is not chilled enough. Put it in the freezer for another 15 minutes, then continue whipping at high speed.
10. The mass should increase slightly in volume and become airy.
11. Transfer the strawberry soufflé into bowls and decorate with strawberry slices.
Also on OBOZREVATEL you can familiarize yourself with recipes: