Trending:
Crispy seasonal rolls with peach cream: how to make a simple dessert for tea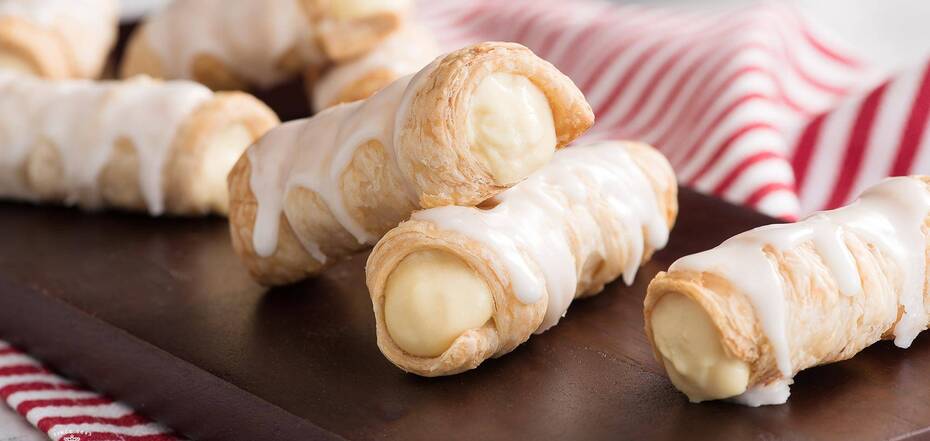 Crispy rolls with peach filling. Source: imperialsugar.com
This is the most basic seasonal dessert you can make with peaches. For it you need puff pastry, which you can buy in any store. You simply make rolls from it and add an airy fruit cream. And then treat your family and friends at a tea party.
The idea for making straws with protein peach cream is published on the Instagram page of food blogger Valeria Veligura(yummy.lera). The filling is quite thick and very delicate in taste.
Ingredients for the tubes:
2 sheets of puff pastry (225 g)
2 egg yolks
Ingredients for the cream:
2 whites (60 g)
1 pinch of citric acid
120 g peach flesh
100 g sugar
Orange dye - as desired
Method for making straws:
1. Roll out the puff pastry and cut into long strips.
2. Rotate the molds with the dough and place on parchment.
3. Grease with egg yolk, bake in a preheated 180 degrees oven for 15 minutes and let cool.
Method of making the cream:
1. Make an incision in the peaches and completely immerse them in boiling water for 30 seconds.
2. 2. Take them out, immerse them in ice water and let them cool.
3. Remove the skins, beat with a blender, add sugar and bring to a boil.
4. Slightly turn down the heat and, stirring occasionally, cook the syrup for 5-6 minutes.
5. While the syrup is boiling - start beating whites with citric acid until peaks. Continuing to whisk, thinly pour hot syrup.
6. After that, continue beating the mass at maximum speed until it thickens a lot - 8-9 minutes.
7. Put the cream in a pastry bag with a nozzle, remove the forms from the tubes and fill with the cream.
Also on OBOZREVATEL you can read the recipes: