Trending:
Crispy "chili" cucumbers for winter: a recipe for the most successful marinade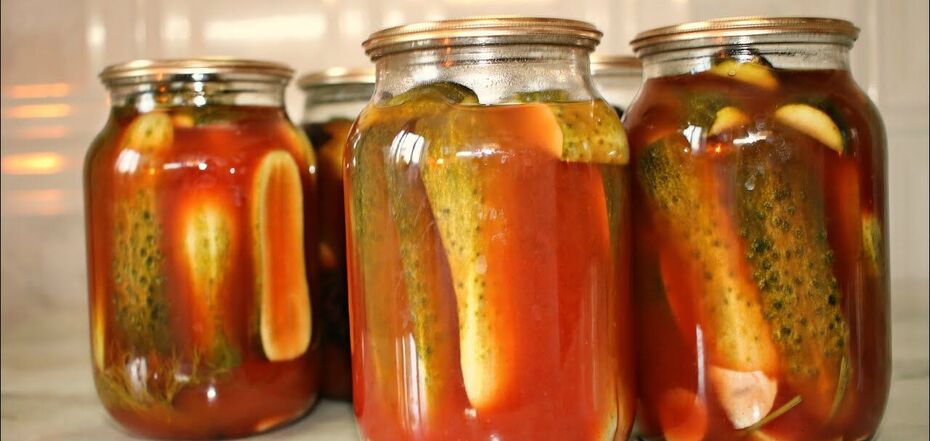 Pickles with chili ketchup. Source: Screenshot from a video from the ''Hryhoryak Family'' YouTube channel
Chili cucumbers for winter turn out sour-sweet and have a piquant spicy note. For the vegetables to be crisp and elastic, they should be properly prepared for pickling. The secret of a successful preparation lies in the marinade.
One of the culinary blogs (vse_roste) on Instagram published a recipe for spicy cucumbers with chili ketchup and Dijon mustard for the winter.
Ingredients:
cucumbers - 600 g
Dijon mustard - 2 tsp.
chili ketchup - 2 tbsp.
salt - 0.5 tsp.
sugar - 0.5 tsp.
vinegar - 30 ml
water - 240 ml
allspice - 2 pcs
garlic - 1 clove
dill, horseradish leaves
Method of preparation:
1. First you need to prepare cucumbers: wash them thoroughly, cut the tails off and soak in cold water for 2 hours.
2. Wash all the greens and sterilize jars and lids.
3 You should put dill, horseradish leaves, garlic at the bottom of the jars. Tamp the cucumbers tightly. Fill the jars with steep boiling water and leave for 10 minutes.
4. To prepare the marinade you need to mix water, vinegar, ketchup, mustard, salt, sugar and pepper in a saucepan. Put everything on fire and stir until the sugar and salt dissolve. Bring the marinade to a boil and simmer for another 5 minutes.
5. You need to drain the water and fill the jars with hot marinade.
6. Seal the jars with lids hermetically. Turn the containers upside down, cover with something warm and leave until completely cooled. Done!
Also on OBOZREVATEL you can read the recipes: