Trending:
Crispy and firm pickled cucumbers for winter without vinegar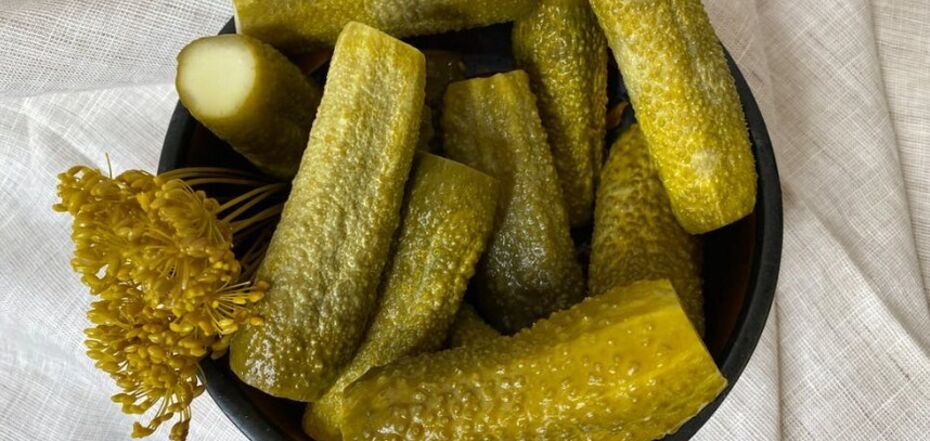 Pickled cucumbers for winter without vinegar. Source: pexels.com.
For canned cucumbers to remain crisp and firm in the jar, vinegar is usually added. However, this leads to the vegetable losing all its benefits. Therefore, you should use the following technology without vinegar, but with a lot of greens and fragrant fruit leaves.
The idea of cooking pickled cucumbers without vinegar for the winter is published on the culinary page fayna_kitchen on Instagram. Remember that the jar with brine should be screwed very quickly.
Preparation of pickled cucumbers without vinegar
1. Put this at the bottom of clean jars:
cherry leaves and sprigs - 2-4 pcs
currant leaves - 2-4 pcs
grape leaves - 2-4 pcs
horseradish spine - 1-2 pcs
dry or fresh dill - a few pieces
bitter red pepper - a few pieces
bay leaves - 1-2 pcs
All leaves should be fresh
2. Stuff the top with cucumbers. Fill with salt solution (3-4 tbsp of salt per 3 liters of water).
3. Leave the jars for 3 days in hot weather or 4 days in cool weather. The jars can be kept open or lightly covered with kapron lids. It is better to put bowls or rags under the jars or they will ferment and leak.
4. Drain the water from the jars into a large saucepan and bring to a boil.
5. Put 3-6 garlic cloves in each jar, pour hot brine and screw immediately.
6. Turn over and wrap in a blanket until completely cooled.
Also on OBOZREVATEL you can read the recipes: