Trending:
Cheese palianytsia like khachapuri: a perfect snack both kids and adults will like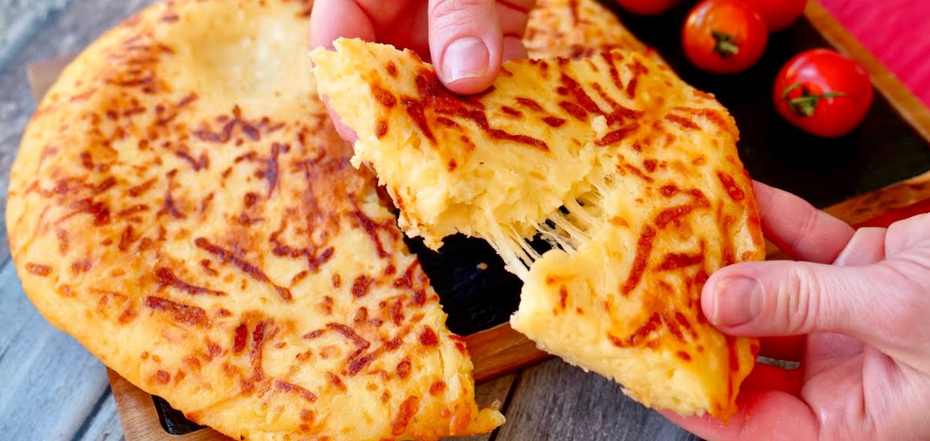 Cheese palianytsia. Source: Screenshot from a YouTube video
Palianytsia is the most popular type of bakery product that can be eaten instead of bread and rolls. In addition, it is deliciously supplemented with greens, cheese, minced meat, meat or potatoes. The dish is so satisfying that it is suitable both for children and adults.
One of the culinary blogs (vitala_foodblog) on Instagram published a recipe for cheese palianytsia made from yeast dough.
Ingredients for 9 pieces:
Dough:
milk - 150 g
sugar - 1 tbsp
yeast - 25 g
salt - 1 tsp.
flour - 300 g
eggs - 1 pc + 1 pc for greasing
milk - 2 tbsp
vegetable oil - 2 tbsp.
butter for greasing
Filling:
Suluguni cheese - 200 g
cream cheese - 2-3 tbsp. l.
Method of preparation:
1. To make the dough, add sugar, salt, yeast, egg and flour to the milk. Mix everything thoroughly and start kneading the dough.
2. While kneading the dough, add vegetable oil and continue kneading. The dough should be soft. Put it in a greased bowl and cover with cling film. Leave it in a warm place for 1 hour.
3. Meanwhile, prepare the filling. Grate the hard cheese and mix it with the cream cheese. Set part of the mass aside to sprinkle on the finished flatbreads.
4. Divide the finished dough into 9 parts and form balls. Wrap the filling in each of them and roll them out to make a flat cake. Place on a baking sheet.
5. Smear the flatbreads with a mixture of egg and milk and sprinkle with the remaining cheese. Make small holes inside each one. Bake at 190 degrees until golden brown.
6. Brush the finished biscuits with butter. Enjoy!
You can also find more recipes on OBOZREVATEL: