Trending:
Cauliflower mayonnaise salad: you do not need to boil the vegetable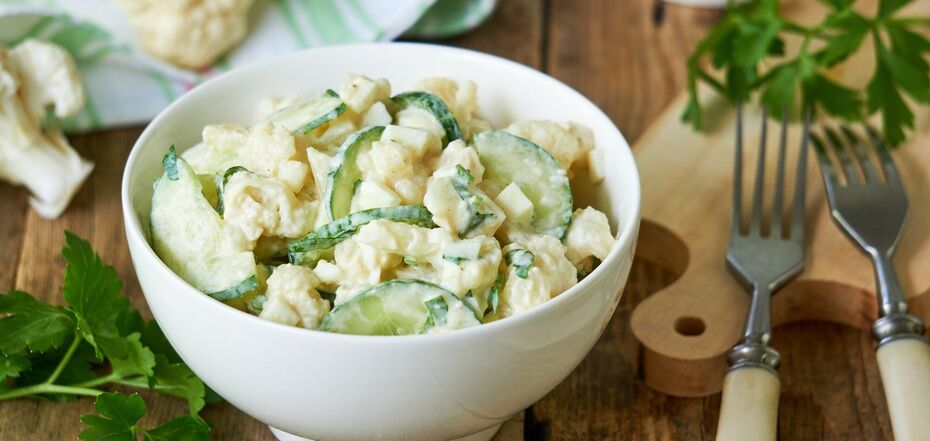 Cauliflower salad with mayonnaise. Source: depositphotos.com
Cauliflower is a healthy, dietary and nutritious vegetable. In order to cook it deliciously, the vegetable does not have to be boiled, fried or baked. Such cabbage can be eaten raw as it is the perfect ingredient for a salad.
One of the culinary blogs (zefirok_recipes) on Instagram published a recipe for a raw cauliflower salad with mayonnaise, which you will prepare in a few minutes.
Ingredients:
cauliflower
lemon juice
salt, pepper
garlic
mayonnaise
dill
Method of preparation:
1. Separate cabbage into small florets and place on a plate.
2. Pour lemon juice over cabbage, add salt and pepper, press garlic.
3. Add mayonnaise. Stir and serve. Bon appetit!
Cauliflower can be also cooked in breading. The vegetable does not need to be boiled or fried in advance. The corresponding recipe was published in one of the culinary blogs (reeixit) on Instagram.
Ingredients:
cauliflower
vegetable oil/olive oil
spices: salt, pepper, dried/fresh garlic, sweet paprika + Khmeli Suneli, oregano, dried parsley (optional).
breadcrumbs
Cooking method:
1. First, you need to disassemble the cabbage into florets.
2. Pour vegetable oil over the florets and mix.
3. Immediately add all the spices and mix again thoroughly. Place in a baking dish.
4. Sprinkle breadcrumbs on top (no need to stir).
5. Bake in the oven at 180 degrees for 15 minutes. Done!
Also on OBOZREVATEL you can read the recipes: