Trending:
Budget bilberry galette: the perfect summer dessert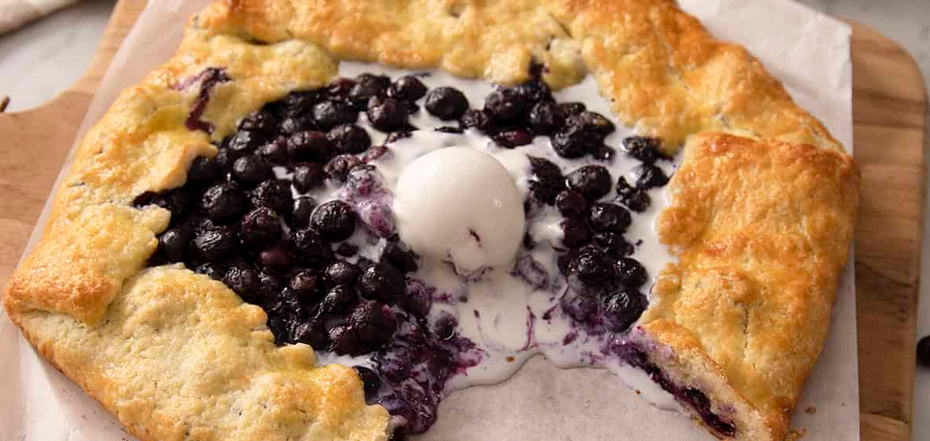 Galette with bilberry. Source: preppykitchen.com
Galette - a light summer cake, based on sandy dough and a juicy filling of fresh berries or fruits. Such baked goods are prepared quickly and from available products. The filling turns out juicy, tender and does not leak during baking, and the dough - crispy and just melts in your mouth.
FoodOboz editorial staff shares with you a simple and budget recipe for bilberry pie - galette, which takes only 30 minutes to prepare.
Ingredients:
bilberries - 3,5 glass
flour - 1.5 tbsp.
granulated sugar - 1 tbsp.
brown sugar - 1 tbsp.
zest and juice of 1 lemon
Almond crumble:
Flour - 4 tbsp.
Almonds - 1.4 tbsp.
granulated sugar - 2 tbsp.
Brown sugar - 2 tbsp.
Butter - 3 tbsp.
Dough:
flour - 1,4 tbsp.
butter - 1\2 tbsp.
kosher salt - 1,4 tsp.
ice water - 1,4 tbsp.
Preparation method:
1. First of all, prepare the dough. To do this, you need to mix flour and salt.
2. Add chopped butter and rub the mass to the state of crumbs.
3. Gradually pour in the water and start kneading the dough. The dough should be elastic and not stick to your hands.
4. Roll out the dough into a circle and place on a baking tray.
5. To prepare the filling, mix all the necessary ingredients together. Put it on the middle of the dough, not reaching the sides. In turn, the sides should be wrapped inside so that the filling is visible but does not leak out.
6. Separately mix all the necessary ingredients for the crumble topping. Sprinkle berries on top.
7. Grease the dough with a mixture of water and egg, sprinkle with sugar. Bake at 180 degrees for 20 minutes. Bon appetit!
Also on OBOZREVATEL you can read the recipes: