Trending:
Better than sauce and ajika: a recipe for pepper seasoning for meat and pasta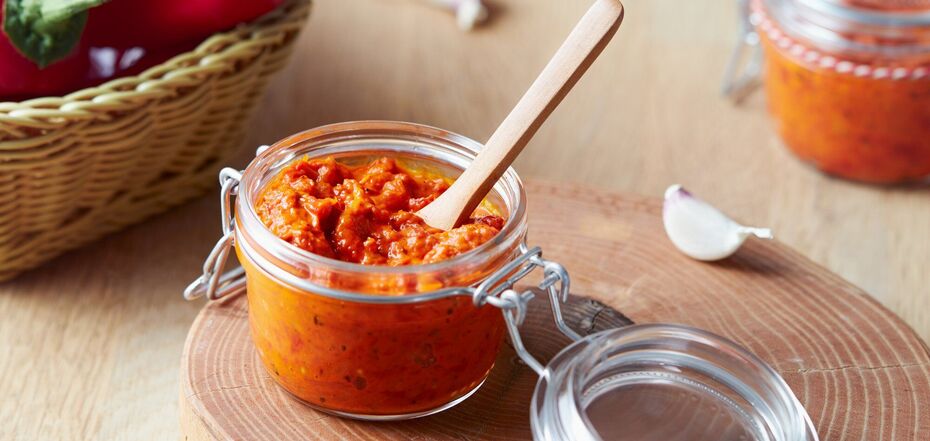 Pepper seasoning for the winter. Source: depositphotos.com
Sauce or caviar can be made not only from tomatoes and zucchini, but also from peppers. This is a great option for the winter, because the seasoning can be used for meat, pasta, and eaten as a snack with bread. It is moderately spicy and easy to prepare.
Food blogger Olena Mykolaivna (olena_mykolaivna56) shared a recipe for bell pepper seasoning for the winter on her Instagram page.
Ingredients:
red bell pepper - 3 kg
garlic - 3 heads
sugar - 360 g
vegetable oil - 300 ml
salt - 2 tbsp
ground red hot pepper - 1 tsp.
tomato paste - 600 g
vinegar 9% - 200 g
bay leaf - 4 pcs
dried basil - 1 p
Method of preparation:
1. First, peel and grind the pepper through a meat grinder. Also grind the red pepper.
2. Add sugar, oil, and salt to the mixture. Stir and put everything on the fire. Cook for 30 minutes after boiling.
3. After the allotted time has passed, add tomato paste, vinegar, basil, bay leaf, and grate garlic. Cook for another 10 minutes.
4. At this point, you can remove the pan from the heat and put the mixture into sterile jars. It's ready!
You can also find more recipes on OBOZREVATEL: