Trending:
Autumn cinnabons with pumpkin that always turn out fluffy: how to make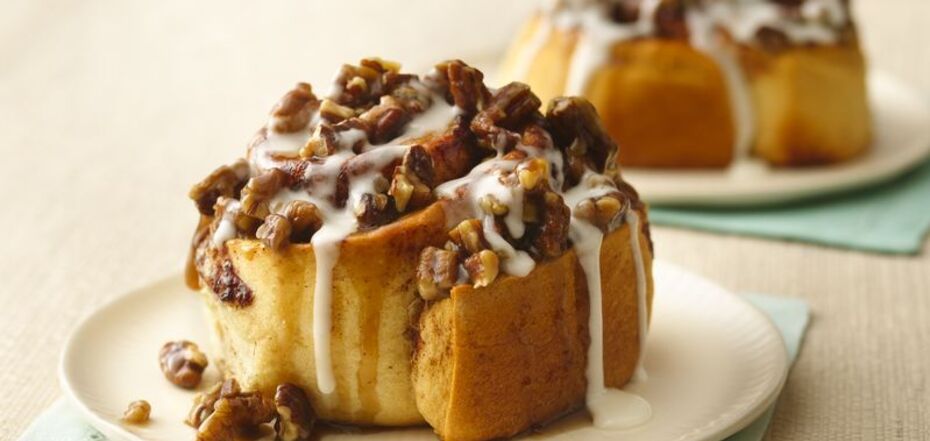 Fluffy cinnabons with pumpkin . Source: pillsbury.com
When the cold season comes, the smell of fragrant sweet pastries appears in the houses. And very often these are cinnabons. For them, you need to make a very loose and elastic dough, into which you need to add pumpkin. The mass will be moderately sweet and tender.
The idea of making autumn cinnabons with pumpkin was published on the Instagram page of food blogger Varvara with the nickname valerikiry. The filling is classic - fragrant and spicy cinnamon.
Ingredients for the dough:
milk - 375 ml
vegetable oil - 125 ml
sugar - 90 g
yeast - 7 g
pumpkin puree - 250 g
flour - 800 g
honey - 1 tsp
salt - 1 tsp
Ingredients for the filling:
butter - 125 g at room temperature
sugar - 130 g
cinnamon - 3 tbsp
Ingredients for the glaze:
cream cheese - 150 g
powdered sugar - 80 g
20% cream - 2 tbsp
lemon juice - 1 tbsp
Method of preparation:
1. Peel the pumpkin, cut it into pieces.
2. Cook for 20 minutes, pour out the excess water.
3. Beat with a blender until smooth.
4. Prepare the dough: dissolve the yeast, salt, 1 tablespoon of sugar and 3-4 tablespoons of flour in milk.
5. Put it in a warm place for 15-20 minutes, when the dough rises with a cap and begins to settle, it is ready.
6. In a bowl, mix the dough, oil, sugar, honey and pumpkin puree, add flour and knead the dough.
7. Knead the dough well and refrigerate for at least 3 hours, preferably overnight.
8. Take the dough out of the fridge, knead it and divide it into 2 parts.
9. Roll out each piece into a rectangle 0.3-0.4 centimeters thick.
10. Brush with softened butter, sprinkle with a mixture of cinnamon and sugar, roll into a tight roll, pinch the edges.
11. Cut the roll into 3-4 cm thick pieces and place them in a baking dish 2 cm apart. Leave to proof for 20-30 minutes.
12. Then send to the oven preheated to 175-180 degrees for 30 minutes until golden brown. The baking time may vary depending on your oven.
13. Make the cream: beat the cottage cheese with cream with a whisk, add powdered sugar and lemon juice. Lubricate the hot cinnabons with it.
You can also find more recipes on OBOZREVATEL: