Trending:
Apple jam with duchesse and vinegar: sharing two cooking variants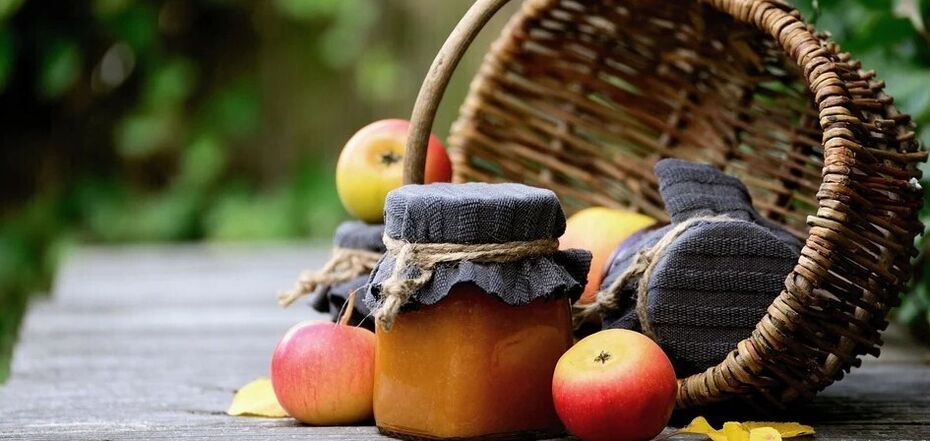 Two variants of making delicious apple jam. Source: Pixabay
Apple jam can be added as a filling in pies, pancakes or simply eaten with bread. Such a preparation is very versatile and can be prepared in completely different ways. One of the most interesting options is apple jam with duchesse. And more classic is jam with vinegar.
The idea of preparing two interesting variants of apple jam is published on the Instagram page of a foodblogger with the nickname yummy_food_uaa. One of them adds duchesse candies and the other one adds vinegar.
Ingredients for duchesse jam:
2.5 kg of apples (peeled and seeded)
100 ml water
200 g sugar
15 pieces of duchesse candy
vanillin (optional)
agar-agar (optional)
Method of preparation:
1. Put the apples in a saucepan, pour in the water.
2. Pour in sugar and cook over low heat.
3. Cook until the apples are mashed.
4. Add candy, stir.
5. Let cool, boil once again until the desired thickness and complete dissolution of candy. There may be more sugar if the apples are not very sweet, so periodically taste.
6. You can add vanillin or, as a thickener, agar-agar.
7. We get jam with a light candy flavor.
8. Pour into sterile jars, cover with lids.
Ingredients for jam with vinegar:
2 kg of apples (without seeds and peel)
500 g sugar
50 ml water
4 tbsp vinegar
Method of preparation:
1. Pour sugar over the cut apples.
2. Add water and cook over low heat, stirring occasionally, for one hour.
3. Add the vinegar and simmer for another hour.
4. Pour into sterile jars, screw on the lid.
5. At first the jam will be liquid, after a few days it will become very thick. Ideal filling in pies or bagels.
Also on OBOZREVATEL you can familiarize yourself with the recipes: