Trending:
Apple and cinnamon pancakes: a delicious breakfast and dessert dish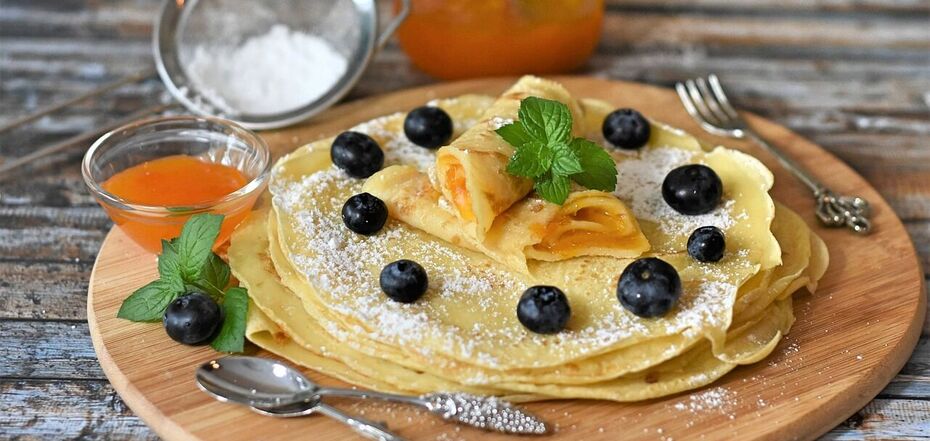 Apple and cinnamon pancake recipe. Source: pixabay.com
Delicious thin pancakes can be eaten not only on their own, but also make them with different salty and sweet fillings. Such a dish is a great option for breakfast, dessert and even a snack.
Foodblogger Evgeniya Malinevska(ev.malinevska) on her Instagram page shared a recipe for delicious thin pancakes with apple and cinnamon, which you can make very quickly and easily.
Ingredients for 8-10 pancakes:
eggs - 1 pc
flour - 150 g
milk - 350 ml
vanilla sugar - 15 g
cinnamon - 1 tsp.
soda - 1 tsp.
salt - 1 tsp.
ghee for frying
Stuffing:
apples - 2 pcs
lemon juice - 20 ml
sugar - 2 tbsp.
cinnamon - 1 tsp.
ghee oil - 2 tsp.
powdered sugar for decoration
Method of preparation:
1. Start by preparing the dough. To do this, in a deep bowl mix 1 / 2 part milk, eggs, sugar, cinnamon and salt. Beat with a whisk until homogeneous and the sugar has dissolved.
2. Add flour to the resulting mass. Stir to make sure there are no lumps.
3. Then pour the remaining milk, mix and immediately add the baking soda. The dough is ready!
4. At this point, fry thin pancakes in a pan with ghee oil.
5. Next, prepare the filling. To do this, cut the apples into cubes, put them into a saucepan, add sugar, cinnamon and ghee oil. Put on fire and fry until soft - it takes about 10 minutes. The filling is ready!
6. At this point you need to put 2 tsp. of filling on one pancake and wrap it in a triangle. Sprinkle the pancakes with powder. Done!
Previously OBOZREVATEL reported how many eggs you need to add for the perfect pancake batter.