Trending:
A light and tasty avocado toast with halloumi cheese and lime honey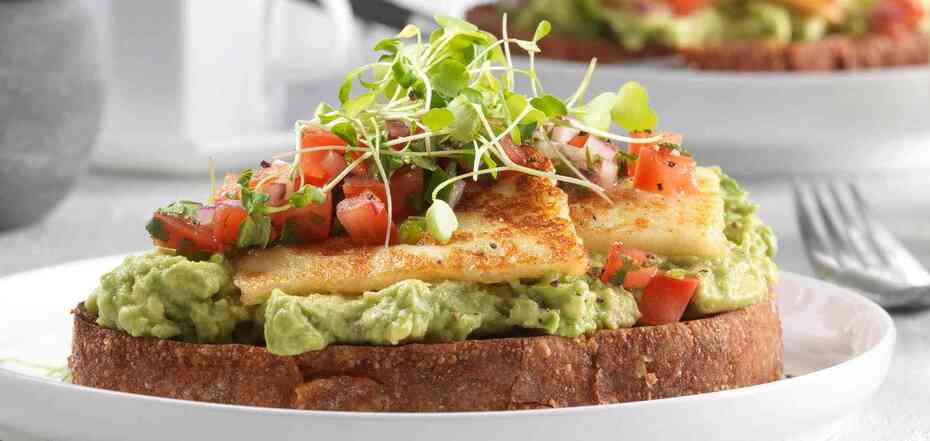 Avocado toast with halloumi cheese. Source: gaylea.com.
Avocado is the perfect base for a light and hearty snack. It's also spectacular and original. Combine toasted cheese, avocado and lime honey on crusty toasted bread and you will be surprised by the taste.
The idea of preparing avocado toast with halloumi cheese is published on the Instagram page of the food blogger with the nickname dribka.soli. The preparation will take 15 minutes at most.
Ingredients:
2 slices of savory bread (drizzle olive oil on one side)
1 large or 2 ripe avocados
120 g raw halloumi
1-2 columns of green onions
Salt, pepper, garlic, parsley - to taste
Ingredients for lime honey:
2 tbsp. liquid honey
1 tsp. chili flakes
juice and zest of 1 lime
salt, pepper
Method of preparation:
1. Make toast by placing on a pan with sides sprinkled with butter.
2. Slice halloumi into 3mm slices.
3. Mix all the ingredients for the lime honey.
4. Crush the avocado.
5. Slice onion. Salt and pepper.
6. Remove the bread and place halloumi in the same pan.
7. Grill the cheese until caramelized on both sides.
8. Turn off the heat and pour the lime honey over the cheese.
9. Spread avocado on toast, add cheese and drizzle with remaining sauce from the pan. Sprinkle with parsley.
Also on OBOZREVATEL you can read the recipes: