Trending:
They were admired by the world they didn't see: three blind celebrities who made history. Photo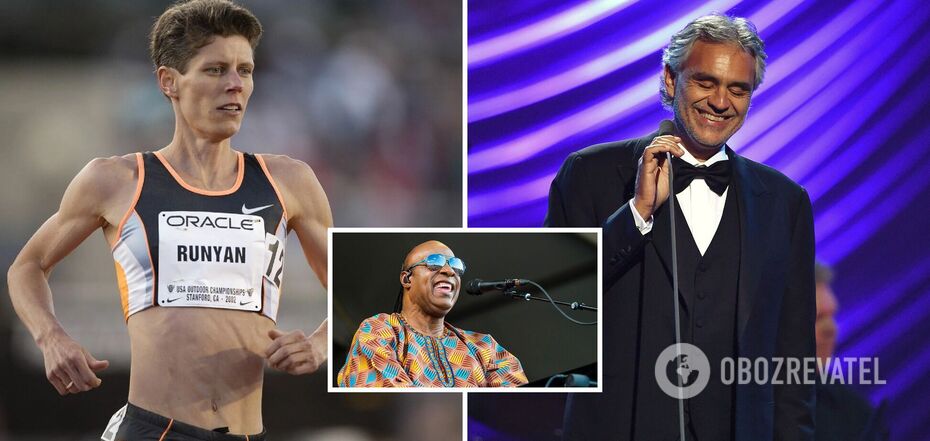 Celebrities who were blind
Despite health problems, some people have managed to reach unprecedented heights and change the world for the better. In particular, there are plenty of examples of people in the world who, despite losing their sight, lived happy, fulfilling lives and were able to realize their dreams.
These people demonstrate that nothing can become an obstacle on the way to achieving goals. OBOZREVATEL will tell about three world-famous persons, for whom visual impairment became a motivation for achievements, fascinating discoveries and victories.
Andrea Bocelli
Andrea Bocelli is a famous Italian singer whose talent was admired by Luciano Pavovrotti himself. As a child, Andrea was diagnosed with a congenital eye disease - glaucoma. The mother of the future star was even advised to terminate the pregnancy, warning that the child would have serious health problems. However, until the age of 12, Andrea was not completely blind, as predicted by doctors. He lost his sight completely as a result of a head injury sustained while playing soccer, which resulted in a hemorrhage. He went through 12 surgeries, but none of them helped.
From a young age, Bocelli had a passion for singing. Living in the countryside on a farm, he took every opportunity to perform songs. As a teenager he won at music festivals, but he had to forget about singing for a while when he entered the Faculty of Law at the University of Pisa.
However, the career of a lawyer did not work out, because the famous Italian tenor Franco Corelli invited Andrea to study with him. He studied during the day and worked in restaurants at night to have money to live on.
In the early 1990s he became interested in the famous opera singer Luciano Pavarotti, who heard the recordings of the gifted Bocelli and invited him to take part in a festival. Subsequently, Andrea Bocelli became a prominent and popular singer who performed even in front of the Pope.
Stevie Wonder
Stevie Wonder is a famous American musician and composer. Despite the fact that Stevie lost his sight almost immediately after birth, this did not hinder his talent. At the age of eight, he was already proficient in piano, organ, drums and harmonica.
The talented guy was noticed by a famous producer in 1962. Already at the age of 12, Vander's first record was released, and his debut single made the musician a rising star. In 1971, his album "Where I'm From" achieved multi-platinum status.
In total, Vander has released more than 30 successful albums and has won the prestigious Grammy Award 25 times. His name is found in the list of the best musicians of all time.
Marla Runyan
Marla Runyan is a recognized Olympic athlete who broke U.S. records in the five-kilometer run and was a three-time champion.
She has participated in two Olympic Games: in the 2000 Olympics, she participated in the 1500 meter race and came in eighth, as well as in the 2002 marathon.
She achieved a lot of success in sports despite being blind. She lost her sight after suffering from Staggardt's disease.
But despite being blind, she never gave up. Ranjan became the first visually impaired athlete in history to choose the Olympic Games over the Paralympic Games. Marla has now ended her athletic career and has chosen to help others. She works as a teacher and assistant coach at a school for the blind in the USA.
Earlier OBOZREVATEL reported what popular celebrities got into the Guinness Book of Records.
Also OBOZREVATEL wrote about the hidden talents of celebrities. So, actor Andrew Garfield amazes with his acrobatic tricks, and Cara Delevigne masterfully performs beatboxing. Read more - at this link.
Only verified information in our Telegram channel Obozrevatel, Threads and Viber. Do not fall for fakes!