Trending:
These shoes should not be worn in summer! Four models to forget about. Photo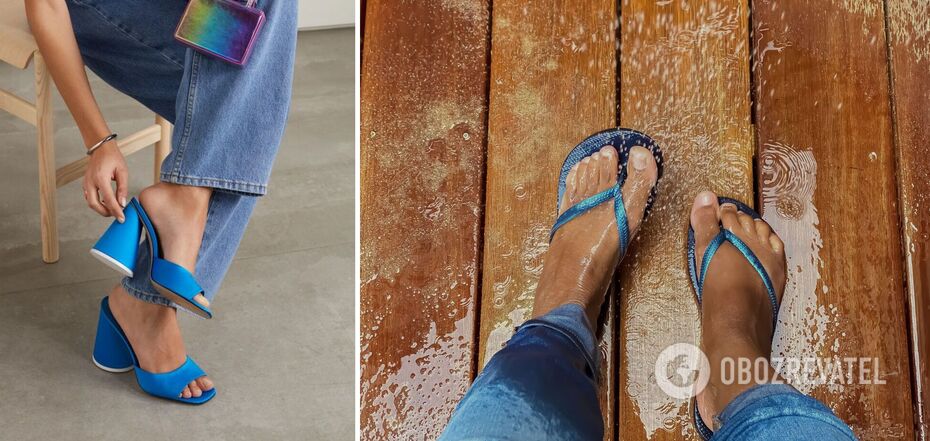 Shoes you can't wear in the summer
With the onset of heat, open toe shoes is a top choice. However, many of them are dangerous for health: they traumatize feet, provoke the appearance of painful blisters and even have a detrimental concussion of the entire musculoskeletal system.
The list of "forbidden" summer footwear includes flip-flops, sabots, clogs and mules. OBOZREVATEL will tell you why these four models are so dangerous.
Feet are in constant tension
Any shoe without fixation on the heel leads to straining the muscles of the shin and keeping your fingers in a cushioned state, so that your favorite pair of sabots or mules did not come off the foot. The result is permanent calluses between your toes. But this is not the worst outcome. You can have the so-called heel spur. In addition, the risk of falling is increasing if you wear them. In short, this traumatic fashion failure is best avoided if you do not want to spend the summer on trips to the traumatologist.
Gait disturbance
If the shoes are not properly fixed on the foot, there is a risk of gait disturbance. This means that flip-flops, mules, sabots and other open models affect the usual length of the step by shortening it. Healthy shoes should not interfere with natural movement. All this provokes constant strain on the musculoskeletal system, which in turn affects other organs. Have you ever noticed that after a day on your feet you may get a headache? This may be due to the shoes you were wearing. We can get a concussion of the entire musculoskeletal system after wearing flip-flops with thin rubber soles, because of which the feet have to contact with every pebble and bump on the road and get traumatized.
Fungal diseases
Public pools, saps or surfboards can leave dermatomycosis-infected scales of skin, which can lead to fungal diseases. Open flip-flops with thin soles may fail to protect your feet.
No impact protection
Cuts, fractures or other injuries to fingers and toenails are the results of wearing open toe shoes. If you choose an open-toe model, be prepared for constant collisions, whether it's an uneven tile, a notch in the pavement, a parapet or just a step. But even if you're lucky enough to avoid severe and seemingly unnoticeable injuries, that doesn't mean your feet don't suffer from regular minor impacts. Repeated micro-traumas trigger an inflammatory response, which leads to more serious problems.
Earlier OBOZREVATEL shared models of summer skirts, which remain at the peak of popularity.You will look fantastic in them.
Only verified information from us in Telegram-channel Obozrevatel, Threads and Viber. Do not fall for fakes!