Trending:
XXI World Summer Universiade officially opened in China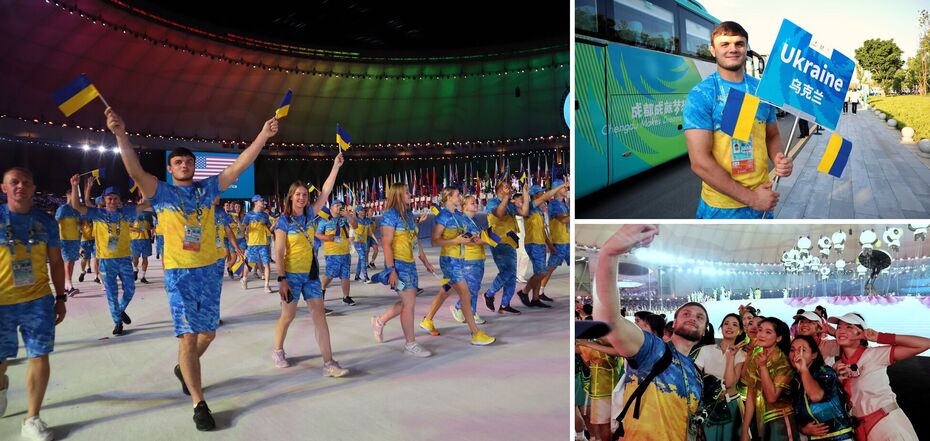 XXI World Summer Universiade officially opened in China
The opening ceremony of the world's premier student competition was held in Chengdu in traditional Chinese style.
115 countries took part in the parade of athletes. Ukraine was among them.
The blue and yellow flag was brought to the main stadium of the Universiade by Oleh Mamatov, a student of the Ivan Ohienko National University of Kamianets-Podilskyi (Taekwondo).
As a reminder, 61 athletes represent our country in Chengdu. The Ukrainians will compete in 10 sports: judo, athletics, wushu, volleyball, fencing, badminton, rhythmic and artistic gymnastics, taekwondo (WTF) and archery.
Nicole Krasiuk, rhythmic gymnastics, National University of Physical Education and Sports of Ukraine: "I'm very happy to be here, it's my little dream come true. Of course, we hope for the best result. But the main thing is to tune in to the performance and represent our country with dignity. Follow our performances and be sure to cheer for Ukraine!"
Orina Ivanova, wushu, State University of Trade and Economics: "It was a long journey, two difficult flights and a bus. Today we were at our location for a warm-up, we "trampled" the floor a little bit. Overall, everything is fine. The food is great, Chengdu is great, our team is great!"
Anastasia Erokhina, badminton, Kharkiv Polytechnic Institute: "This is my first time at such a competition, and my impressions are that the level of organisation is very high, comparable to the level of the Olympic Games! Cheer for Ukraine."
The Universiade will last until 8 August. A total of 269 sets of medals will be up for grabs in 18 sports.
The competition starts on Saturday. Ukrainian students will also take part in the competition.
Archery: Solomiya Trapeznikova, Olga Shubkina and Stefan Kostyk will compete in individual and team archery tournaments.
Judo: Kirill Samotug will compete in the 60 kg category.
Rhythmic gymnastics: Khrystyna Prykordonna - individual all-around (hoop, ball), Daria Shcherbakova, Marta Borys, Anastasiia Ptashnyk, Diana Dovhaniuk, Daria Ivaniuk and Nicole Krasiuk - group all-around (5 hoops).
Volleyball (men): Ukraine-Azerbaijan
Wushu: Orina Ivanova, Oleksiy Kolesnik.
A meeting of heads of student sports organisations from Ukraine and around the world was also held in Chengdu.
Vadym Stetsenko, Chairman of the Committee on Physical Education and Sports of the Ministry of Education and Science of Ukraine, and Yevhen Imas, President of the Ukrainian Student Sports Union, met with the leadership of the International University Sports Federation - FISU President Leonz Eder and Secretary General Eric Seintrond.
They discussed the development and support of student sports in Ukraine and around the world, and noted the success of our students in international competitions. In addition, the leaders of the Ukrainian delegation in Chengdu thanked FISU for its clear position on the ban on participation in competitions under the auspices of the organisation for athletes from the aggressor countries of Russia and Belarus.