Trending:
Verkhovna Rada's decision on Kharlan's rival caused hysteria in the Kremlin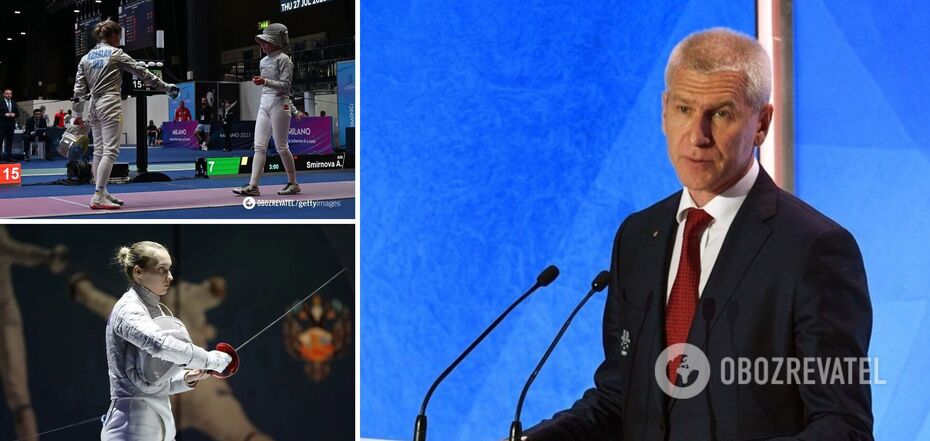 Russian sports minister interviewed by propagandists
Russian Sports Minister Oleg Matytsin reacted to Ukraine's Verkhovna Rada's demand to disqualify fencer Anna Smirnova for life. Smirnova lost to Ukraine's Olha Kharlan in 1/32 of the 2023 World Championships in Milan and then went crazy and refused to leave the track.
The Youth and Sports Committee of the Verkhovna Rada of Ukraine adopted a draft appeal demanding a lifetime disqualification of the Russian athlete on August 3.
Matytsin is sure that this is a gross violation of the principle of the inadmissibility of interference of state bodies in the activities of independent international public organizations.
"Athletes should have equal rights during all competitions without exception and, following the rules of international federations, should not be subjected to aggressive criticism and attempts to use them as means of political confrontation," the Kremlin said hysterically in an interview with propagandists from Match TV.
In addition, the official believes that Smirnova committed an honest act in the spirit of true sporting values.
"It is unacceptable to call the Russian athlete's actions provocative and initiate rule changes to please discriminatory demands," Matytsin added.
Russian minister's statement caused a meme wave even among his compatriots.
"Explain to me what is so heroic in sitting on a chair for 50 minutes and waiting for your opponents' disqualification. Where is the fair part? She just sat. What a hero," the users wondered.
The International Fencing Federation first disqualified Kharlan as a result of the World Cup scandal but then suspended its decision the next day.
Our saberist herself noted that she was simply shocked by the decision to exclude her from the tournament.
Smirnova is not a "neutral" athlete, as required by the regulations of the competition. The brother of the representative of the aggressor country is a military man. She is very proud of him, which is evident from the joint photos.
After the high-profile publicity in the world media, the IOC also reacted to the scandal by making a sensational decision on the Ukrainian.
Video evidence of tournament organizers being pressed by Russia to disqulify Kharlan later appeared online.
Only verified information we have in our Telegram channel Obozrevatel, Threads and Viber. Do not fall for fakes!