Trending:
Ukrainian gymnast received a standing ovation from Clinton and US fans took a piece of the mat: How Podkopaeva has changed in her 45s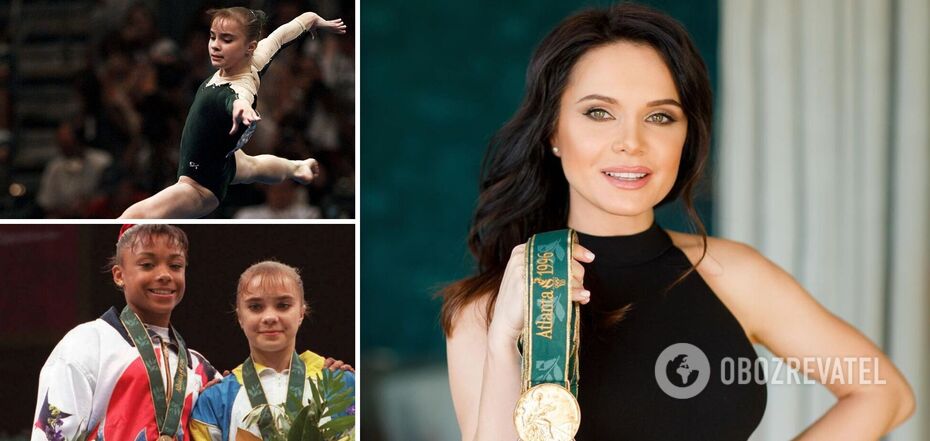 Lilia Podkopayeva celebrates her 45th birthday
On August 15, the legendary Ukrainian gymnast Lilia Podkopaeva turned 45 years old. In 1996 in Atlanta, the Donchanka gymnast became a two-time Olympic champion, conquering the whole world and the President of the United States, but from the competitions she always rushed back to her native Ukraine to her mother's potatoes.
On the birthday of the great athlete and patriot of Ukraine we decided to remember the event that divided Podkopaeva's life in two parts - before her victory at the Olympic Games-1996 in Atlanta and after. And also tell us how her life turned out after her sporting triumph.
As a child, Lilia dreamed of becoming a stewardess to be able to travel the world. But she was able to fulfill her desires thanks to gymnastics. In training, as the athlete later recalled, she worked tirelessly - six hours a day and six days a week.
Naturally, she had to limit herself in something and watch her weight. "The most important thing in the fight against weight is not to eat! This is the most effective! Sometimes before the competition we had to starve ourselves, and go to the sauna, and run, wearing a couple of suits..." - The athlete told with a smile later and admitted that when she was away from home, she wanted fried potatoes with garlic, which her mother cooked.
But once Lilia had set herself the goal of winning the Olympics, nothing could stop her.
Podkopaeva was preparing for the 1996 European Championships, which took place two months before the Olympic Games, after breaking her ribs: "Winning was very important to me personally, because I wanted to prove to myself that I was in shape after the injury. And she won three gold medals and two bronze medals in Birmingham.
And before the Olympics-1996 the Ukrainian was at the competitions in Israel and during a tour to the Wailing Wall wrote a note that she wanted to become an Olympic champion.
"In Atlanta I was going in the status of absolute champion of Europe and the world, the pressure was crazy, well, about the responsibility I am not talking at all. We really wanted as many people as possible to know about Ukraine, to think of Ukrainians as a nation of winners", - later admitted segodnya.ua Lilia.
And during the Olympics in Georgia, the Ukrainian performed brilliantly, winning two gold medals - in the all-around and floor exercise - and "silver" on the balance beam, where she lost only 0.037 points to Shannon Miller of the United States, who won this event.
At that Olympics Podkopaeva performed an element that still cannot be repeated - a double forward somersault with a 180-degree turn. And her performance of "The Barber of Seville" made the 50,000-strong hall burst into applause.
Nearly 20 years after Atlanta Podkopaeva received a letter from a Las Vegas coach who wrote, "How can your Olympic music be used? Because the girl is a fan of yours. We are looking for it everywhere, but we can't find it in such a processing as yours anywhere".
As Lilia admitted to sport.ua, the treatment for her "Barber of Seville" was specially made by Vladimir Bystryakov with her choreographer Svetlana Dubova: "Everything was prescribed there: strong music when you do acrobatics. Where you need to stand to rest - more calm, gentle. This preparation took several months.
27 years ago, U.S. President Bill Clinton also applauded the Ukrainian woman. And immediately after the awarding Podkopaeva was invited to the audience room, where she was received by Clinton: "Unfortunately, at that time I did not know English and a personal conversation could not happen. He congratulated me and invited me to take part in a demonstration tour of America."
At 17, after winning the all-around at the Atlanta Games, Lilia received a standing ovation from the U.S. President and nearly 50,000 spectators, and at 18, the world and European champion quit the sport because of injuries.
"Standing on the podium' the most important feeling that overwhelmed me was pride for Ukraine. That at that very moment we are the first, our flag is higher than everyone else! And then - devastation. At first I felt a feeling similar to depression. After all, when you work from the age of five, and at 18 you achieve the highest awards in world sport, then after that there is a feeling that everything in your life suddenly ended," - then admitted the gymnast.
"I don't know any athletes who have turned this life page painlessly, without nervous-emotional breakdowns. It took a certain amount of time before I began to rebuild and start a new life..." - added Lilia, for whose master classes there were queues abroad.
But Lilia was most popular in the United States, where she performed with demonstration programs, participated in photo shoots, autograph signings, worked as a coach at sports camps in the summer, and was also invited by private clubs.
Twenty years after the Olympics, during a visit to Georgia, a Ukrainian woman was presented with a T-shirt with the Atlanta logo. The man kept it all these years, "He said: "I was hoping there would be a meeting with you." The man was a volunteer in Atlanta; he's a gymnastics coach. When the Olympics were over, they were allowed to take some item as a memento."
Podkopaeva's fans also kept a large piece of carpeting where "Atlanta-1996" was written in huge letters: "I had a meeting with the kids in the gymnasium, they spread this carpet, just like a TV interview it turned out, so unexpected. It's nice that for so many years people kept these things, hoped for a meeting, prepared for it."
Podkopaeva took the occupation of Donetsk region and the war in her native region very painfully. She emphasized that Donetsk was and will be a part of Ukraine: "When I see flags that are not blue and yellow, it hurts. For me Donetsk was, is and will be Ukraine".
Lilia lived for a long time on two countries, but after finding a third husband in the United States, she finally settled in America and is raising three children. Although she often came to Ukraine and before Russia's full-scale invasion, she visited AFU soldiers in a military hospital.
After February 24, 2022, Podkopaeva actively called for the suspension of all Russian athletes from international competitions, participated in various events in support of Ukraine and people affected by Russian aggression, and met with Ukrainian military.
Earlier OBOZREVATEL reported that how changed the famous Ukrainian gymnast, who became a businesswoman in Austria and traveled to Russia to Putin's "mistress".
Only verified information from us in Telegram-channel Obozrevatel, Threads and Viber. Do not fall for fakes!