Trending:
Ukrainian figure skater, who fought with Russians for medals: where has the European vice-champion disappeared and what is she doing abroad?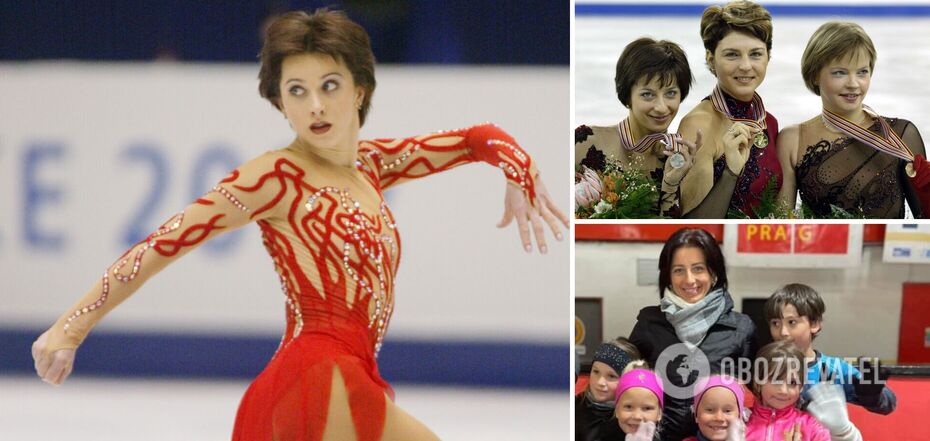 Olena Liashenko was a successful figure skater and now works with people
Olena Liashenko from Kyiv was the leader of the Ukrainian national team in women's singles skating for more than 10 years, winning three European championships, which none of our skaters have managed to do since her. She competed with Russians Irina Slutskaya and Elena Sokolova, and then became a mother and moved to the Czech Republic.
OBOZ.UA decided to find out how life turned out after the end of her career for one of the best Ukrainian skaters, who had to fight against judges' bias and defend her right to compete instead of cooking borscht in the kitchen.
Olena Liashenko made a loud statement in 1995, winning bronze at her second European Championships, and at the World Championships, the 19-year-old from Kyiv reached the top 10. It seemed that victories were just around the corner. However, in the next 8 European Championships, she constantly stopped one or two steps short of the podium. And at the World Championships, her best result was sixth place.
Meanwhile, the Russians Slutskaia and Butyrskaia took turns winning Europe, and in 2004, when all the Russian representatives were left behind, in Budapest, Lyashenko was unexpectedly beaten by the Hungarian Julia Sebestien. The Ukrainian won the silver medal at the continental championship.
It seems that for most of her career, the judges were too picky about Olena: what was forgiven by some, was taken away from her by precious points. And this was at a time when her rivals were preparing in multi-modern halls, and Lyashenko was training on hard ice and, sometimes, without heating in the locker rooms.
In addition to the European Championships in 2004 and 2005, the Ukrainian had other successes, such as winning the 2003 Chinese Grand Prix. Therefore, Liashenko went to the 2006 Olympics with certain hopes, but the day before she had the flu, and the judges put her as low as 13th place after a fairly clean short program.
"I still have a grudge against the judges in my heart. After all, I performed the short program well, and I didn't even expect this from myself," the Ukrainian later admitted.
In addition, after this season, the skater's back injury worsened, and she decided to hang up her skates on a nail, although she really wanted to become an Olympic medalist...
After the 2006 Games in Kyiv, Olena started coaching children and building a family life. The athlete's first marriage did not work out because of different views on Lyashenko's career: "I already know what it's like to be married to a non-athlete from my own experience. We lived together for five years with my first husband, and I divorced him - he demanded that I give up sports, take care of the house and stand at the stove."
The figure skater was lucky in her second marriage. On September 18, 2005, 29-year-old Lyashenko got married to pentathlete Andrii Efremenko. They met thanks to the groom's brother, Mikhail Efremenko, who was dating Olena's friend from the national team, figure skater Halyna Manyachenko. Andrey once came to the girls' training session with them, and then asked her for Liashenko's number.
"It all started with a message in which Andriii asked me to meet him. So we dated for four years. We tested our feelings. I feel very comfortable with Andrii, he understands me at a glance. I don't have to explain anything when I come home from training tired. He always supports me. For four years, we have never had any serious disputes," Olena admitted to fakty.ua.
In 2013, Olena, her children, and her husband moved to the Czech Republic, near Prague: "We moved because my husband was offered a very interesting job in the Czech Republic. The change of residence was not because we wanted to change countries or because I was not satisfied with something in Ukraine."
In the Czech Republic, Liashenko found a job as a children's coach: "My husband's employers helped me get in touch with a figure skating club. We were looking for one not far from our home. We use the rinks in Prague and those nearby. I took the little kids. Here, sports is more of a hobby, a health improvement for children, not a profession. This makes coaching more difficult (smiles). You train a child up to the age of 10, and then the parents say that now they will study harder."
Olena admitted that life in the Czech Republic is calmer and more relaxed - no one is in a hurry, whereas in Ukraine there is always a race. And this gives you inner stability. Even though she had been to the Czech Republic before moving, and more than once, it still took her a while to get used to it.
The Liashenko children felt comfortable in their new country. The younger twins, Myron and Hordii, went to the skating rink with their mother, went in for figure skating and hockey, and even took part in competitions. And the eldest Platon, like his father, chose pentathlon and at the age of 9 already won medals at the national championship.
After the outbreak of a full-scale war in Ukraine, Liashenko posted on her Facebook page about what her homeland was going through because of the bloody invasion of the Russian occupiers, showing dead athletes and victims of rocket attacks.
Earlier, OBOZ.UA told you where the famous gymnast Vitrichenko, who fought with Russian Kabaeva, disappeared and what she looks like.
Only verified information is available on the OBOZ.UA Telegram channel and Viber. Do not fall for fakes!