Trending:
Ukraine's basketball team loses to Lithuania in first test match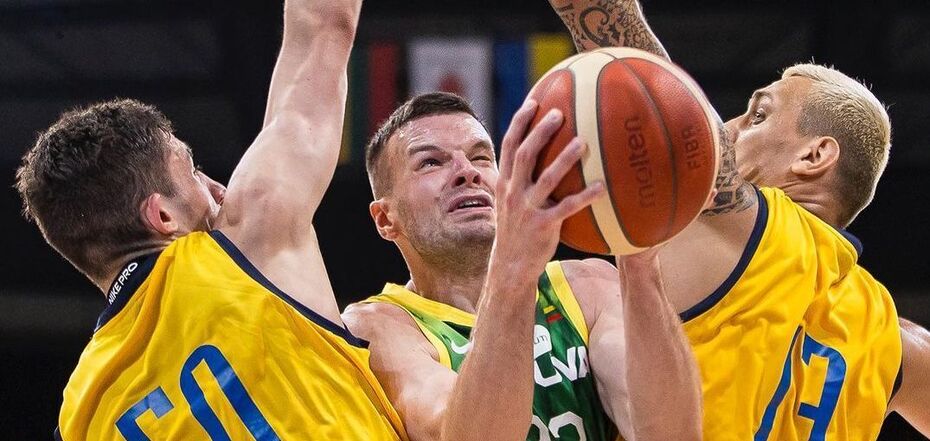 Ukrainian national basketball team. Source: FBU
Ukraine's national basketball team has suffered a defeat in its first test match in preparation for the Olympic pre-qualification. The team of Vitaliy Stepanovskiy, who led the national team as its head coach for the first time, lost to Lithuania 72-100 in Panevėžys.
The Ukrainian national team showed quality basketball in the first and third quarters, but missed powerful spurts from the opponents in the second and fourth ten minutes. Our team won the rebounding battle, including 17 offensive rebounds, but lost the battle in the paint. Lithuania scored more points in the third quarter, committed fewer turnovers and had better shooting performance, which was enough to win by a comfortable margin.
For the Ukrainian national team, point guard Oleksandr Kovlyar was the best player in this match, scoring 18 points (4/5 two-pointers, 2/6 three-pointers, 4/7 free throws). Vyacheslav Bobrov recorded 11 points and 10 rebounds.
The national team of Ukraine will play its second friendly match on Monday, July 31, at 18.30
Control match. National teams, men
Panevėžys, Lithuania
Lithuania - Ukraine 100:72 (21:21, 30:17, 18:20, 31:14)
Ukraine: Kovlyar 18 + 4 assists + 4 rebounds - 5 losses, Voynalovych 7 + 4 rebounds, Krutous 4 + 6 rebounds - 3 losses, Petrov 3, Pustovyi 0 - start, Mishula 12, Bobrov 11 + 10 rebounds - 4 losses, Zotov 8 + 3 assists, Kravtsov 5, Pavlov 2, Tyrtyshnyk 2