Trending:
Ukraine U-18 women's national team wins first victory at EuroBasket 2023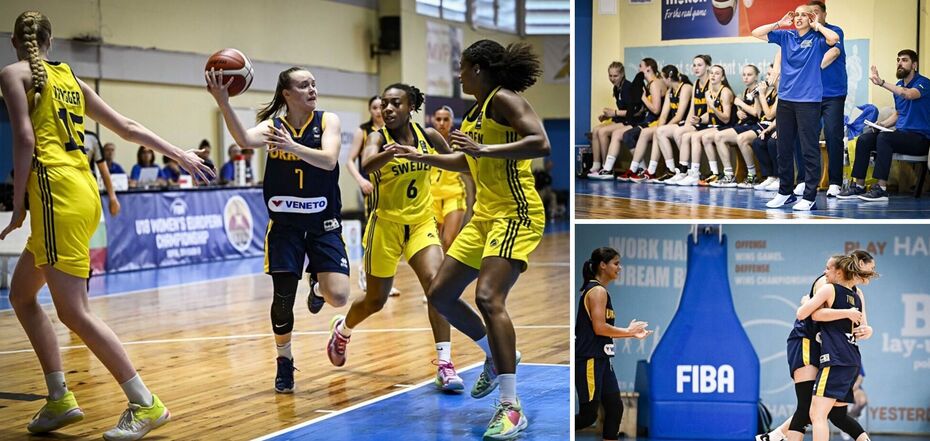 In the second round, Inna Kochubey's team beat Sweden 74-72.
Ukraine's U-18 women's national team has won its debut European Basketball Championship in Sofia, Bulgaria. In the second round, Inna Kochubey's team beat Sweden 74-72.
After a nervous start to the match, when the Swedes took a 5-0 lead, our girls levelled the game, and thanks to better shooting in the second half of the quarter, the Ukrainian team went into the first break with a 24-14 lead.
In fact, the Ukrainians held a comfortable lead throughout the second quarter, but in the last minute they missed a 0-5 run by their rivals, and as a result, the first half of the game ended with a score of 35:33 in our favour.
The close score turned the third quarter into a battle of nerves, where both teams took turns taking the lead, but the end of the ten minutes was left to our basketball players, who went into the last break with a +8 advantage.
However, the rivals quickly reduced their deficit to a minimum again, and the rest of the game was spent in Sweden's attempts to take the lead and Ukraine's attempts to maintain its minimal advantage. The last minute of the match started with the score 72:72, and yet on this day, the Ukrainian team celebrated the victory thanks to Anna Yarosh's two winning points.
As for the Ukrainian national team, we would like to mention Serafima Tykha, who added 10 rebounds and 8 assists to her 19 points, and Elina Synyakova with 21 points and 7 rebounds.
Ukraine wins its first victory in the tournament and retains its chances of making the play-offs. Inna Kochubey's team has two days off next - our team skips the third round, and on Monday, 3 July, all the teams in our group have a day off. The next game of the Ukrainian national team will be played on Tuesday, 4 July, at 15:30 against Slovakia.
We hope that this break will be enough for Violetta Ostapchuk, who was injured before the tournament, and team captain Polina Korbut, who was injured the day before in the third quarter of the match against Bulgaria and supported the team from the bench today, to return to the team.
European U-18 Championship. Women, Division B
Sofia, Bulgaria
1 July.
Sweden - Ukraine 72:74 (14:24, 19:11, 14:20, 25:19)
Ukraine: Bezkorovaina 4+8 rebounds, Rudakova 0, Synyakova 21+7 rebounds, Tykha 19+10 rebounds + 8 assists - 9 turnovers, Yarosh 14+12 rebounds - 5 turnovers - start; Bugaiova 6+9 rebounds, Polantseva 5, Kostoglod 3, Shepeliuk 2+6 rebounds