Trending:
Triumph of Ukrainian students at the World Beach Volleyball Championships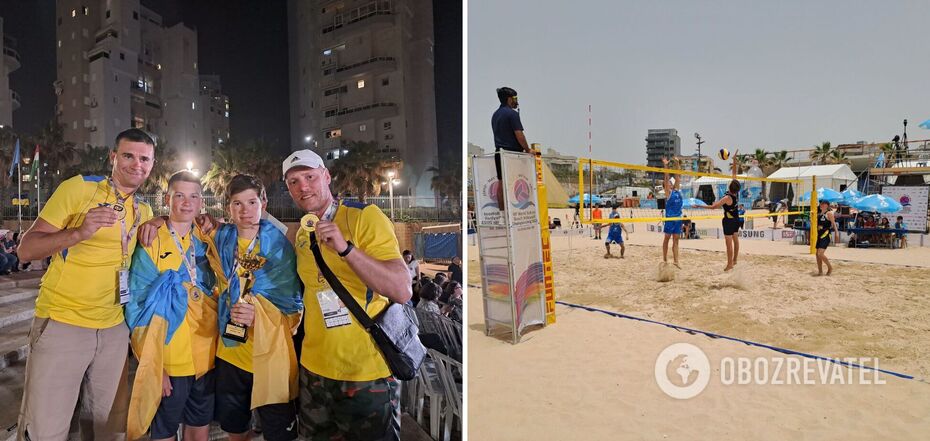 Mykola Trofimchuk and Bohdan Romanishyn win in Bat Yam
Ukrainians Nikolai Trofimchuk from Rivne High School No. 25 and Bogdan Romanishin from Rivne High School No. 28 became world champions in beach volleyball among students! The competition was held in the Israeli city of Bat Yam from May 16 to 23.
The boys were in the U15 category and in every match of the championship they were way ahead of their opponents. They defeated Estonia 21-7 and 21-11 in the finals.
"We are incredibly happy to have won this world championship. You can't say it was an easy victory, because we had really worthy opponents in every match. We dedicate our gold medals to the Armed Forces of Ukraine, who defend our country and thanks to whom we can represent our state in sports arenas," said happy champion Nikolai Trofimchuk.
Pavel Savityuk, coach of the champions: "Thanks to all those who helped us come here and take part in this world championship. It is thanks to them we were able to win this victory. We were able to demonstrate all our skills, focus and go step by step to our gold medals. The guys did their best to get on the top step of the podium.
Margarita Vapnyar and Ulyana Kovalchuk, girls from the town of Derazhnya, Khmelnitsky oblast, won another medal - a bronze one - for Ukraine. In the duel for the third place they defeated their Kazakhstan peers.
The girls say they knew they had to glorify their country: "First of all, we worked hard for a long time for this medal. We were a little worried, but we had a great support group that gave us strength. We understood that we had to win for Ukraine. After all, we have a war going on and we need to glorify our Country. Glory to Ukraine!"
In the U18 category the pupils of Derazhnyansk lyceum No. 1 were one step away from a medal. Sofia Schutskaya and Ekaterina Bilyak in the fight for the bronze lost to the Mexicans.
"The kids showed a lot of character today. There is no limit to my happiness, - Józefa Slawinska, the coach of the women's team, confessed. - It was the first time we competed at international level, and the girls of younger age category were abroad for the first time at all. Glory to Ukraine! Glory to the Ukrainian armed forces!".
Another representative of Ukraine at the World Championships - Dmytro Koziy and Timofey Tverdokhleb from Kyiv - became tenth in the U18 category.
"Our athletes foughtfor theright to represent Ukraine at the World Championship, competing in the finals of the V Summer Gymnasium of Ukraine. There was a very tough and competitive struggle, - said the Chairman of the Committee on Physical Education and Sports of the Ministry of Education and Science of Ukraine Vadim Stetsenko. - The level of all-Ukrainian competitions among students is growing every year, and the number of participating schools is increasing. That is why we have such a brilliant result at the world championship. I congratulate everyone involved with such a triumph of Ukrainian school sports!
Only verified information in our Telegram-channel Obozrevatel and in Viber. Do not be fooled by fakes!