Trending:
The decision of the Russian national soccer team, with which everyone refused to play, provoked hysteria online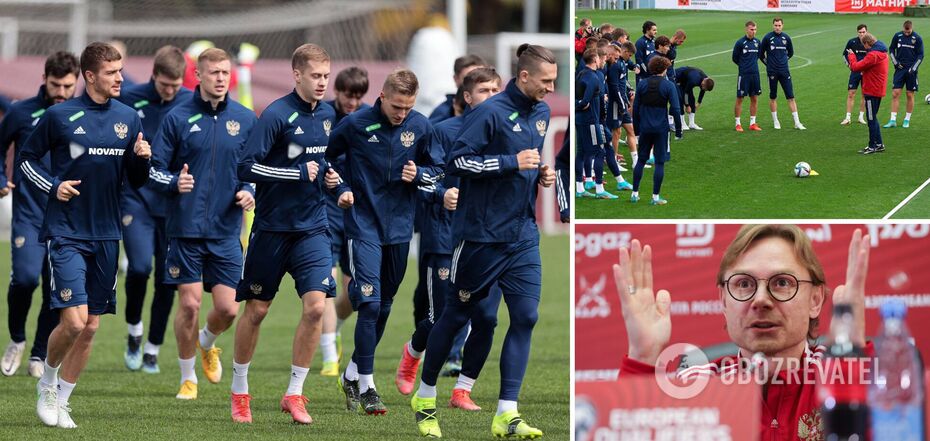 The team will spend a week of training camp
The coaching staff of the Russian national soccer team has summoned 49 (!) players for the September training camp in Novogorsk. Such a number provoked hysteria among fans who are bitching about the decision of the team's head coach Valeriy Karpin.
The training camp will start on September 4 and will last until September 12. There is no information about any friendly matches.
The full list of the Russian national team is as follows:
Goalkeepers
Matvey Safonov, Stanislav Agkatsev (both Krasnodar), Ilya Lantratov (Lokomotiv Moscow) Ilya Pomazun (Ural Ekaterinburg), Vladislav Torop (CSKA Moscow).
Defenders
Vyacheslav Karavaev (Zenit St. Petersburg), Daniil Khlusevich, Georgy Dzhikiya, Ruslan Litvinov, Daniil Denisov (all of Spartak Moscow), Sergey Volkov (Krasnodar Krasnodar), Viktor Alexandrov (Pari NN Nizhny Novgorod), Artyom Makarchuk, Vyacheslav Litvinov (both - "Sochi"), Alexander Soldatenkov (Krylya Sovetov, Samara), Dmitry Skopintsev (Dynamo, Moscow), Andrey Langovich, Viktor Melekhin, Ilya Vakhania (all - "Rostov", Rostov-on-Don), Egor Pogostnov, Evgeny Morozov (both - "Lokomotiv" Moscow).
Midfielders
Dmitry Barinov, Artyom Karpukas, Anton Miranchuk, Maxim Glushenkov, Sergey Pinyaev (all - Lokomotiv Moscow), Danil Glebov (Rostov Rostov Rostov-on-Don), Alexander Chernikov, Nikita Krivtsov (both Krasnodar), Daniil Fomin, Yaroslav Gladyshev (both Dynamo Moscow), Anton Zinkovskiy (Spartak Moscow), Maxim Mukhin, Ivan Oblyakov, Nikita Ermakov (all - CSKA Moscow), Alexander Yushin (Ural, Ekaterinburg), Alexander Golovin (Monaco), Stepan Oganesyan (Orenburg), Vladimir Khubulov, Sergey Babkin (both - Krylya Sovetov, Samara), Edgar Sevikyan, Yaroslav Mikhailov (both - Pari NN, Nizhny Novgorod), Dmitry Vasiliev (Zenit St. Petersburg), Kirill Kravtsov (Sochi).
Forwards
Nikolay Komlichenko (Rostov, Rostov-on-Don), Alexander Sobolev (Spartak, Moscow), Konstantin Tyukavin (Dynamo, Moscow), Fyodor Chalov (CSKA, Moscow), Tamerlan Musaev (Baltika, Kaliningrad).
"Take a close look at this list, you may have made it too," fans ironized over the number of athletes.
Users suggest that with so many national team do not need sparring partners for friendly matches.
"We can play a round-robin tournament for four teams, why did we even agree with Egypt?" - mocked in the comments.
"Didn't find any competition? Have they decided to play two-sided games on their asses?", "Is this a gathering or a wedding guest list?". - Russian soccer fans can't hold back their emotions.
Only verified information from us in Telegram-channel Obozrevatel and Viber. Don't fall for the fakes!