Trending:
Survived rape in the USSR and raised the flag of Ukraine at the Olympic Games-1992: how the famous gymnast living in the USA has changed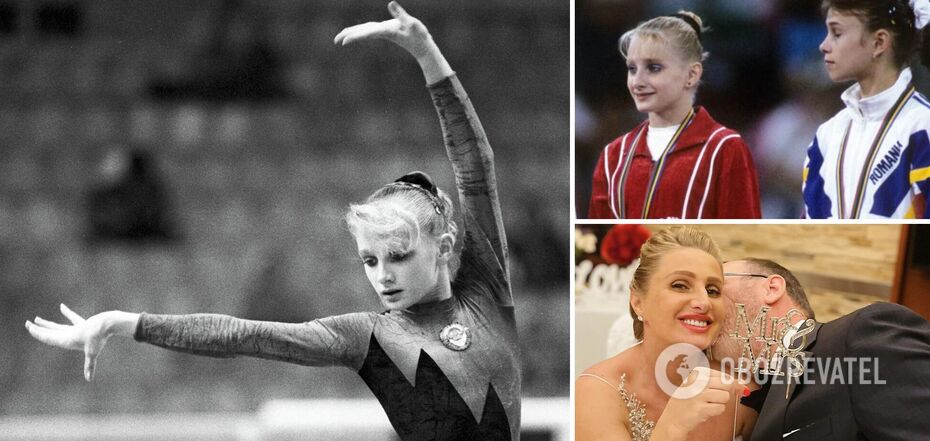 Tetyana Gutsu has come a long way and achieved success
Gymnast Tatiana Gutsu can be considered Ukraine's first multi-medalist at the Olympic Games. 31 years ago in Barcelona-1992 she won gold in team and all-around, silver on uneven bars and bronze in floor exercise. Thus, she came to the competition in Spain as a member of the CIS team, but in honor of Tatyana's victory the Ukrainian national anthem was played and the blue-yellow flag was raised.
Now the titled athlete, who after many years admitted to rape by a colleague on the national team, opened her own school in the USA, got married and helps Ukraine. And at 46, she looks just fine.
Initially in Barcelona, the 15-year-old world champion from Odessa was not supposed to compete in the all-around final due to a gross error on the team day. However, the coaching staff of the national team decided that Tatiana would be able to fight for Olympic gold, so she replaced Rosa Galieva in the final, to whom she then gave half of the $3000 prize money.
"I remember standing on the podium with the gold medal and being happy. We had a lot of paths to go through. There were difficult moments when getting injured or learning a new difficult element. But I was the first to do a turn on the uneven bars with men's technique. The path turned out to be hard, but it was worth it", - later told the Odessa woman.
After the Olympics, the 15-year-old Gutsu ended her career. As the gymnast admitted later, she realized her dream, became champion in all-around and team, and just did not know where to go next. However, later she resumed training in Koncha-Zaspa and thought about returning, but then in 1994 she was invited to the USA to open a gymnastics school. The 17-year-old Gutsu agreed to go abroad, which decided her future life.
"It was a very difficult time in Ukraine at that time: the 90s... My apartment was burglarized three times during that period, almost everything was taken away, including my Olympic gold medal. When I received an invitation to America, I saw it as a way out to another level - I decided to take the chance to change my future and become a respected and recognized athlete and help my parents," Gutsu admitted in an interview with sports.ru.
The gymnast stayed in America to train, starting at a salary of 8 dollars and 25 cents an hour. She started with such a mysterious for Ukraine species as batan: "You throw a stick and it does twists and turns. When I came to one of the companies, the owner told me: "There's a group of 20 people - do it. But I didn't even know how to hold the stick, so I asked the children to show me. And then I taught them from my imagination.
At the same time, Tatiana mastered the language, without which you cannot succeed in the ocean. She switched to the "Mom and Me" and "Mom, Dad and Me" classes - programs for families with children from the age of one and a half: "Moms and dads also work out, get in shape. I worked on preparing muscles for the physical development of the child. I even have more than one year of practice in cheerleading."
In 2016, Tatiana finally opened her gymnastics academy in Michigan, which reminds her of her native Odessa. And three years later, she organized the Tatiana Gutsu Crystal Cup competition.
Also 26 years after the incident, the Ukrainian found the strength to tell about the fact that in Stuttgart in 1991, a 15-year-old girl was raped by multiple Olympic champion in artistic gymnastics Belarusian Vitaly Scherbo - as Tatiana said, "a monster who kept me in a cage for many years".
The Odessa woman's words had the effect of a bomb going off. All those who were involved in the USSR national team at that moment, began to deny and pretend that they did not notice anything. Scherbo said that he sued the Odessa woman for libel, but in 2021 Gutsu said in an interview that the truth was on her side: "With strong evidence, I won the court twice. And the matter was closed.
Now Tatyana is happily married and raising a son. And after opening her academy, she helped children from Ukraine - orphanages in Odessa, Kyiv and Kharkiv. She sent clothes, sporting goods, books and autographs to inspire and support morally. Also supports Ukraine in its war with Russia.
As previously reported OBOZREVATEL, August 4 was the 27th anniversary of the victory of Wladimir Klitschko at the Olympic Games in Atlanta-1996.
Only verified information from us in Telegram-channel Obozrevatel and Viber. Do not fall for fakes!