Trending:
Stole a girl from a Shakhtar player: the captain of the Ukrainian national team proposed in his family underpants and took his beloved to England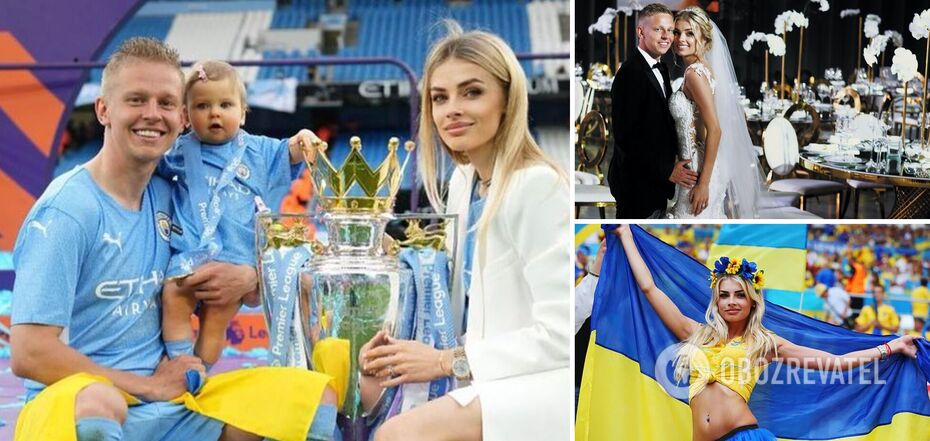 Oleksandr Zinchenko fought for his love for the authorities
In the English Championship, Ukraine's captain Oleksandr Zinchenko is fighting for the title with Arsenal and facing his former club, Manchester City. And he has strong support in the stands - his wife, journalist Vlada Sedan, and his young daughter. At one time, the couple's romance caused a real sensation in Ukraine.
Today, OBOZREVATEL decided to recall the spicy love story of Oleksandr and Vlada, which the guys kept secret for some time.
In June 2019, many men would probably have liked to be in Zinchenko's shoes when, after the 5-0 win over Serbia, the midfielder emotionally kissed Vlada Sedan, a beautiful journalist for the Football TV channel, on live TV. After that, it became pointless to hide the relationship.
The fans were frankly surprised, because not long ago, Vlada, then Shcheglova, was the girlfriend of Shakhtar player Andriy Boryachuk, with whom Zinchenko had a good relationship. The teammates had even been friends since they were 14 years old and went on holiday together.
FOOTBALL PASSIONS. In 2018, Boryachuk, Vlada and Zinchenko travelled to Turkey together. They were accompanied by Andrii's other teammates and their significant others - Mykola Matvienko, Viacheslav Tankovskyi and Oleksandr Zubkov. Only Oleksandr was without a girlfriend at the time.
Interestingly, Vlada became famous thanks to the 2016 European Football Championships, where she came as a fan. The photo of the beauty in the Ukrainian national team uniform was spread by both Ukrainian and foreign media. Even then, the blonde chose a T-shirt with the number 21 and the surname Zinchenko. Although they did not have a close relationship...
Be that as it may, after three years together, Boryachuk and Shcheglova divorced. The reasons were not disclosed. But they soon became apparent.
Zinchenko and Sedan hid their relationship for a long time. And probably for the first time, they were seen together at the Shakhtar vs Dynamo match on May 22, 2019 in Kharkiv. And just two weeks later, Oleksandr could not stand it and kissed Vlada on air.
"I would like to take this opportunity to say that I do have a relationship with Vlada. And the fact that I kissed her on air was because I hadn't seen her for two weeks and couldn't resist. At Manchester City, LaPorte immediately sent the video to the group. But some of the guys already knew," said Zinchenko, a footballer for Ukraine and City, after the incident at the match against Serbia.
It became pointless to hide the relationship. The lovers stopped hiding, posting photos of their travels and joint outings on social media. Soon after, Vlada moved to Manchester to live with Oleksandr, but continued to work for Futboly, covering the national team's matches.
After Vlada and Oleksandr disclosed their affair, they said that for a long time they were just friends. And then this friendship grew into something big. And her relationship with Boryachuk had run its course even before they started dating.
"I do not communicate with Sasha. How can I communicate with him if they did this to me behind my back? It was not boyish, not manly. I don't know how I would treat this person at all. He has his own life, I have mine. We used to be friends, but not anymore. How can you be friends after such an act? " Boryachuk said in an interview with the Sport Arena YouTube channel.
A WEDDING IN A PANDEMIC. The relationship between the footballer and the journalist developed rapidly. In the autumn of 2019, Oleksandr proposed to his beloved. He planned to ask Vlada for her hand in marriage on 14 October after the match against Portugal in the Euro 2020 qualifiers, where she was working, but he did not dare.
"I asked her boss to call me for an interview after the match. I wanted to do it during the interview. But before you propose to your future wife, you have to ask her parents for permission in person. I didn't want to do it over the phone, so I didn't propose as planned. Instead, I did it at night, around four in the morning, at her house, in her family's underpants, almost naked," Zinchenko said.
And in August 2020, Sedan told us about the main event in her life at that time - she became Oleksandr's wife. It turned out that the wedding took place on March 12 at the Ukrainian Embassy in the UK.
"We had planned another date, but the quarantine made changes. Our parents couldn't come. Only Sasha's mum managed to get on the train, and the three of us went to London. Yes, I cried a little afterwards. No need to be surprised. I'm getting married for the first time in my life and I hope it will be the last time," said Vlada.
The girl decided to take the footballer's surname, noting that she now has every right to wear a T-shirt with the inscription Zinchenko.
The gorgeous celebration in Ukraine took place five months after the official ceremony on the banks of the Dnipro River. The wedding was attended by the entire footballing elite of Ukraine, including national team coaches Andriy Shevchenko and Oleksandr Shovkovsky. The guests were entertained by Dan Balan, Vera Brezhneva and Monatik.
TWO BEAUTIFUL ZINCHENKO GIRLS. On August 1, 2021, the captain of the Ukrainian national team and Manchester City defender became the father of a charming girl for the first time. "Dear, thank you. You are my life," Zinchenko wrote on Instagram, thanking Vlada.
"We really want children. Children are sacred and, in my opinion, the main thing that should be a woman's priority, her vocation. Zinchenko's ambitions? He wants at least three children," Sedan said earlier.
After joining Arsenal, Zinchenko took his favourite ladies to London. And it must be said that the kid does not want to share his dad with anyone, not even his mum. Sometimes they even have playful arguments over who gets to hug Oleksandr.
Earlier, OBOZREVATEL told what Zinchenko's main danger is, according to the former Arsenal player.
Only verified information is available in our Obozrevatel Telegram channel and Viber. Do not fall for fakes!