Trending:
Photographed discreetly: the love story of Kharlan and the Italian OI medalist who defended Ukraine after disqualification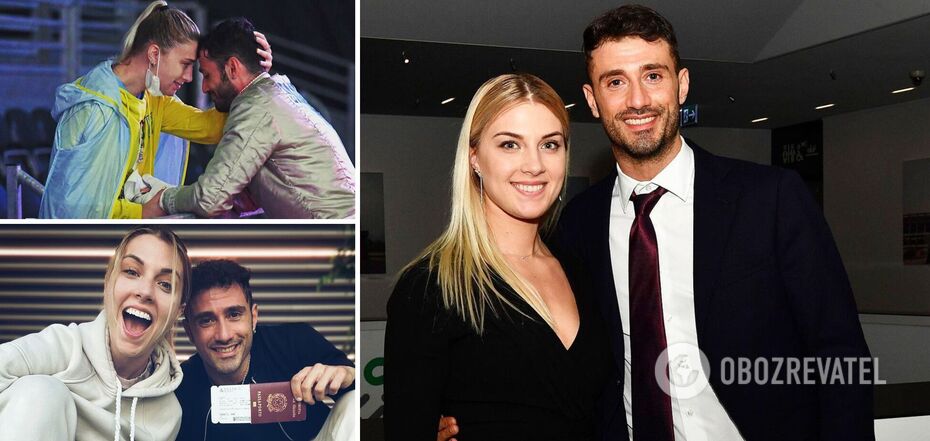 Olga Kharlan and Luigi Samele have been together for five years now
Italian fencer Luigi Samele, a three-time Olympic medalist, selflessly and at the same time touchingly defended his favorite, titled Ukrainian saber fencer Olga Kharlan when she was disqualified at the World Championships-2023 because she refused to shake hands with Russian Anna Smirnova. Luizhdi said he was "ashamed to be part of a system where arrogance trumps honesty" and added that he was very proud of Olga.
Fortunately, the scandal at the 2023 World Cup in Milan ended in favor of Kharlan, who received a quota from the IOC to participate in the 2024 Olympics, regardless of the selection results. Her suspension from the competition was canceled, and fencing rules were revised and allowed not to shake hands at the end of the fight. And OBOZREVATEL decided to remember the beautiful love story of Olga and Luigi.
It turns out that the Italian first noticed the Ukrainian long ago - when he was 18 years old and she was 15. It happened at a competition in France. Later, Samele recalled that he saw a very beautiful girl and even discreetly photographed her.
But the relationship between the athletes began much later. Olga looked at Luigi in a different way somewhere in 2017, when she was still in an official marriage with Ukrainian fencer Dmitry Boyko, but she already realized that because of the constant separation, the relationship with her husband had exhausted itself and it was only necessary to put an official end.
"I always knew there was this Luigi Samele, an Italian, a good athlete, a fencer and a good-looking guy. In 2017 I didn't see my husband for a long time. And I went to tournaments with a friend, but not to fence, but just to watch, to have fun. I just had free time. And at some competitions we talked with G," - told Kharlan in an interview with DOROTYE.
"And I got up the next morning with this feeling: interesting, it was kind of interesting..... It's clear that there was some kind of sympathy. I realized that he was a very good and frank person and not like all Italians. From the very beginning, I saw in him a kind of zest, he was not a typical Italian, and that appealed to me, very much," Kharlan admitted.
"But due to the fact that I was still married, I could not afford to even show sympathy in the direction of Luigi", - said the athlete.
At that time, Olga was married to Dmitry Boyko, with whom she got married in 2014, and before that she dated for another four and a half years. However, two years after the signing of Dmitry, in order to realize himself, flew to work as a coach in the United States and further, as Kharlan notes, their roads simply diverged, and no one wanted to fight.
"In 2016, after the surgery, I went to America for rehabilitation. And spent three months there. But it was very difficult, because there was no one there - no family, no friends," - later recalled the athlete. Dmitry worked a lot, so they rarely went out of the house, even on New Year's Eve. And this depressed Olga, who soon returned to Ukraine, where she had training and training camps.
Dimitri was on the other side of the ocean. There was a period when they never saw each other for 7 months. And that's when the athlete realized that nothing will work out - the relationship has exhausted itself. And during a training camp in New York in December 2017 Kharlan decided that it was time to bring up the topic of divorce: "We calmly sat down, talked and decided everything".
"When there was already a conversation about the fact that we are parting with my ex-husband, then already Luigi became active. Therefore, our relationship only began when Dmitry and I talked," - noted Olga, who officially announced the breakup with Boyko in the fall of 2018.
Now Kharlan is happy in a relationship with Luigi, for two with whom they have seven Olympic medals. And for Samele, the most successful were the 2020 Games in Tokyo - the first joint Games with Olga. In Japan he won two silver medals under the supervision of his beloved. And he was very supportive of the Ukrainian, whose last Olympics did not go well.
Olga was also very warmly welcomed by the large Italian family of Samele. However, there was a moment when due to the coronavirus pandemic the athletes did not see each other for three months, which almost jeopardized their relationship. But after the meeting, they decided never to part again for such a long period of time.
Harlan admits with a smile that she doesn't believe in love at first sight. But now she has found a man with whom she is ready to start a family and envisions an old age together: "I found not only love, but I found myself in this relationship.
"I once asked Luigi when he realized he loved me. He said, 'You and I were sitting on the couch watching a TV show. I looked at you and realized that I just didn't want to leave here. It's really touching when you talk about relationships and smile. And you want to cry from happiness", - even before the full-scale war admitted the athlete in "Dancing with the Stars".
After the Russian Federation invasion on February 24, 2022, Luigi helped Olga get her sister and nephew out of the bombing in Ukraine and sheltered them in his home for a while. And at the 2023 World Championships in Milan, the Italian stood up for his beloved, who was unfairly disqualified after the fight with the Russian, and said that he was ashamed to be part of such a system.
As reported OBOZREVATEL, the International Olympic Committee (IOC) made a sensational decision on Olga Kharlan after the scandal at the World Fencing Championships.
Only verified information from us in Telegram-channel Obozrevatel, Threads and Viber. Do not fall for fakes!