Trending:
"Okay, Olya, the main thing is not to dumb down." Kharlan told for the first time what she was afraid of in the scandal with the Russian at the World Fencing Championships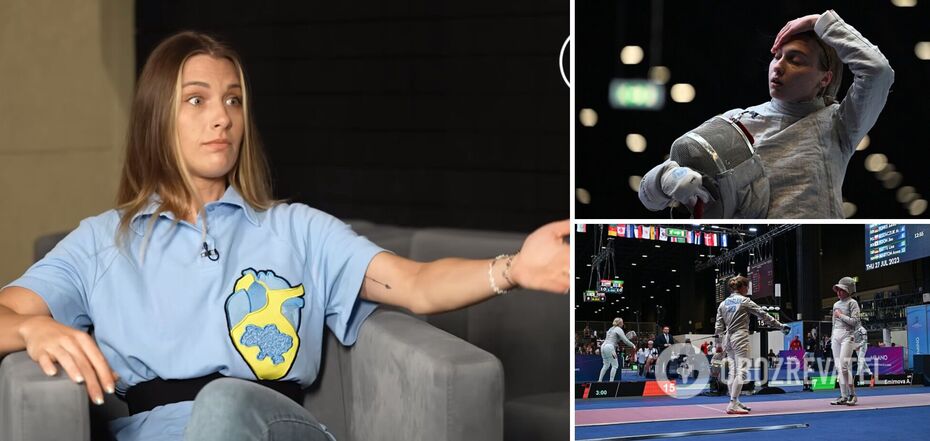 Our titled athlete gave a candid interview
Ukrainian saber fencer Olga Kharlan said that after the fight with Anna Smirnova she thought only about not giving her a hand "on automatic". When the Russian fencer approached her with an outstretched hand, Olga simply put out her saber in response.
Smirnova lost to the Ukrainian in 1/32 of the 2023 World Fencing Championships in Milan and then made a real circus of herself, refusing to leave the track.
"I said to myself before the fight: "Okay, Olya, the main thing is not to dumb down". I mean, don't automatically give my hand. I was talking to my coach and I said: "Andre, please, no matter how this fight ends, please give me some sense". Because I could have lost, it could have been a 15-14 score or something like that, and I could have under the emotion of just shutting down and going to give my hand. But I was saying: "Olya, the main thing - don't do it, don't even think", - said our Olympic champion in an interview with Youtube-channel "FootballHub".
Kharlan admitted that her first thought was not about fencing, but about shaking hands.
"Yeah. I was talking to myself really hard, I've never had that before. Saying, 'Okay, the first thing is emotions. If you master your emotions, you will win fencing. You have to win with fencing, not with emotions. The second thing is: handshake, no." And that was it. After that, I stood. I waited. I was told, 'Go,' and I left," Kharlan noted.
Recall that as a result of the World Cup scandal, the International Fencing Federation first disqualified Kharlan, but suspended its decision the next day.
Our saberist herself noted that she was simply killed by the decision to exclude her from the tournament.
Note that Smirnova is not a "neutral" athlete, as required by the regulations of the competition. The brother of the representative of the aggressor country is a military man, and she is very proud of him, which is evident from the joint photos.
After the high-profile publicity in the world media, the IOC also reacted to the scandal by making a sensational decision on the Ukrainian.
Video evidence later emerged that Harlan was disqualified after pressure from Russia on tournament organizers
On August 3, the Committee on Youth and Sports of the Verkhovna Rada of Ukraine adopted a draft appeal demanding that the Russian woman be disqualified for life.
Only verified information we have in our Telegram channel Obozrevatel, Threads and Viber. Don't fall for the fakes!