Trending:
"My home is Moscow": ex-Russian won the European Championship for Cyprus and can compete with Mahuchikh and Levchenko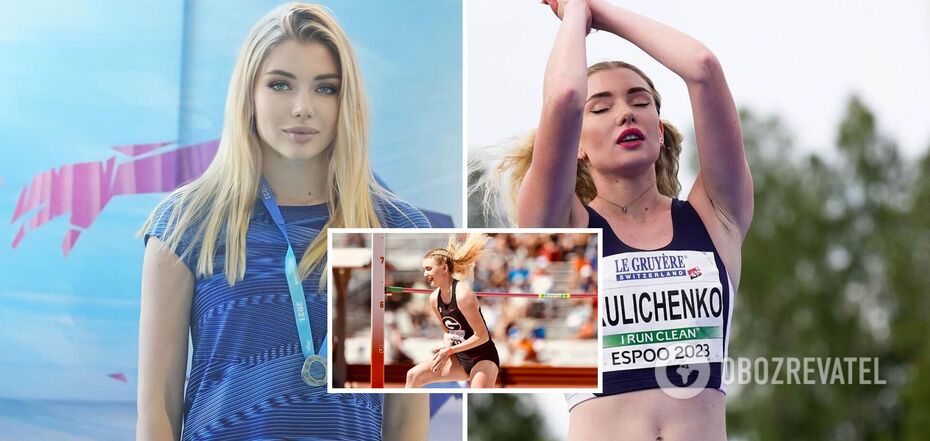 Elena Kulichenko was able to ''buy'' a Cypriot passport
Former Russian track and field athlete Elena Kulichenko won the European Youth Athletics Championships in high jump (U-23) under the flag of Cyprus. After the victory with a height of 1.91 meters, she told about the situation in the Russian Federation, which forced her to start the process of changing her citizenship two years ago.
Now Russian track and field athletes do not compete on the international stage due to the full-scale invasion of Ukraine, but even before that, only a few representatives of the aggressor country were allowed to participate in prestigious competitions due to massive doping.
"The time of an athlete at the top is very short. Everyone knows how the situation with Russia has turned out. It was already difficult some time ago with doping. I was then thinking mainly about myself as an athlete. I want to compete. I want to participate in international competitions and have the opportunity to prove myself there," Svenska yle quotes 20-year-old Elena.
Junior European Festival 2017 medalist in Gyor Kulichenko has been playing for Cyprus since the second half of the 2021. She is also studying in the USA and representing the University of Georgia (USA).
"It's just that I got a second citizenship a few years ago for certain reasons. My manager Alexei Nikolaev suggested that I change my sports citizenship. In Russia, nothing is moving for the better. At the time of our conversation with him, they stopped giving even neutral statuses," the jumper told two years ago.
In fact, for her new citizenship and trouble-free life, Elena has her father and his wealth to thank. In Cyprus, a person and his family can obtain citizenship if at least 2.2 million euros have been invested in the country's economy, Time magazine reported.
According to information, Kulichenko's father. works and owns real estate in Cyprus, so he was able to buy a new passport for his daughter as well. Many compatriots and colleagues hated Elena and her money for this. After all, they are forced to sit in Russia and hang around at local spartakiades when she travels the world.
"I received so much hate because of my change of citizenship. I don't think people can even imagine how much hate was directed at me," the 20-year-old athlete admitted to Svenska yle.
Already after the World Championships 2023, the track and field athlete from Odintsov near Moscow gave a very vague answer when asked where her home is now and whether she considers Russia to be her home.
"My home is where my family is, where my closest people are. Is it in Russia? (laughs). There are a lot of places. It's really the craziest feeling you can have traveling from one home to another. It's hard to define where my home is, it's more about people," Elena said after winning the European Championships (U-23) in Espoo, Finland.
Hpwever, before the full-scale war in Ukraine, while talking about her studies in the United States, Kulichenko assured that no matter what her home would remain Moscow.
"I was offered a scholarship at Atlanta University, there is a strong team there and a good head coach. I will live on campus, play in student competitions. Everything as it should be. Then in the summer I will come to Cyprus and jump there. It's a great opportunity for me. Nevertheless, my home is still Moscow," the athlete told "SE" two years ago.
In Finland, Kulichenko won the continental championship, taking the height of 1.91 meters. This result was one of the weakest among all the winners of the European Youth Championships. Only Italy's Alessia Trost (1.90m in 2015), Russia's Alexandra Shamsutdinova (1.89m, 2009) and Spain's Ruth Beitia (1.87m, 2001) had worse performances.
Nevertheless, this is the first such success at the youth championships for Cyprus. Besides, Kulichenko has already served her two-year quarantine and there is no doubt that after this "gold moment" the former Russian will be invited to other international tournaments. Especially with such an attractive appearance for advertising.
Sooner or later, if nothing extraordinary happens, Elena will meet in the sector with Ukrainians Yaroslava Maguchikh, Iryna Herashchenko and Yulia Levchenko, who are world leaders in high jump.
But the question arises. How to treat athletes like Kulichenko, who were brought up in Putin's country, consider Moscow their home and, accordingly, remain Russians under any flag? How to compete with them in the same sector?
Earlier OBOZREVATEL reported that the most beautiful track and field athlete of Ukraine won the European Games-2023.
Russian rival Mahuchikh with the words "we are not expected there" ended her international career in tears.
Only verified information from us in Telegram-channel Obozrevatel, Threads and Viber. Do not fall for fakes!