Trending:
"I will throw away my Russian passport": the tennis player born in Moscow considers herself a Ukrainian, currently changing her citizenship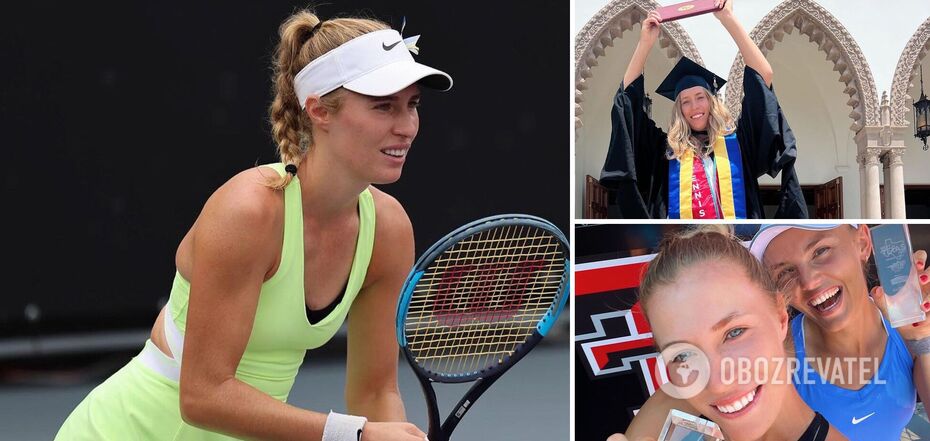 Veronika Miroshnichenko from juniors played for Ukraine
On September 19, Ukrainian tennis player Liudmyla Kichenok and Dutch player Arantxa Rus defeated the duo of Mexican Renata Zarazúa and Russian Veronika Miroshnichenko at the WTA 1000 tournament in Guadalajara (3:6, 6:1, 10:4). However, Veronika doesn't consider herself Russian, as she plays with a blue and yellow ribbon and dreams of throwing away her passport with an eagle to get a Ukrainian one. The athlete's Instagram reads, "Glory to Ukraine!"
Although Miroshnichenko was born in Russia, she spent her childhood and youth on the banks of the Dnipro River. Then she went to study at Loyola Marymount University in Los Angeles.
"I don't consider myself an ordinary Russian woman playing under a neutral flag. I was born in Moscow, but I grew up and spent my childhood in Zaporizhzhia. My mom, dad and grandparents are all from Zaporizhzhia. I was brought up in a Ukrainian family and went to a regular school for almost 11 years before I left for the United States. Of course, I consider Ukraine my homeland and I consider myself a Ukrainian but with a Russian passport," she told btu.org.ua.
Veronika's tennis career also began in Zaporizhzhia, where she picked up a racket for the first time. The girl played under the Ukrainian flag at the ITF Juniors.
"Even when I registered for the professional level, they needed my passport. I had never had Ukrainian citizenship. The only document I've always had was a Russian passport because I was born in Moscow. Thus, even though I didn't want to change my flag, I simply had no choice," Miroshnichenko said.
Since 2017, Veronika has been studying in Los Angeles and playing only at the university level. It was only last year that she returned to ITF tournaments, making her WTA debut in Mexico this year.
After the start of the full-scale Russian invasion, Miroshnichenko did everything she could to make sure that people across the ocean did not forget that the war was still going on in Ukraine. She raised funds for a children's hospital in Zaporizhzhia in L.A. Her family also provides humanitarian support to Ukrainians, as most of her family remains in Zaporizhzhia. Veronika always plays with a ribbon in the colors of our flag at the tournaments.
"I always carry them with me and even ordered a large number of them. I have about ten different caps and I add a blue and yellow ribbon on each one. For me, being from Ukraine is a huge sign, it's always with me in my heart. When I play, it reminds me of the difficulties that the Ukrainian people and my family are going through, and it gives me strength during my matches," the tennis player said.
"Even though I play under a neutral flag and have a Russian passport, I have no relations with the terrorist state. I always talk about it on my social media," Veronika emphasized.
Miroshnichenko is currently changing her citizenship to obtain a Ukrainian passport, but the process is delayed because consulates are working in a very difficult mode.
"We are trying to do everything according to the law, but it is a complicated process. Now we are collecting the documents that are needed, including all the certificates from the school and the federation. We work every day to do it faster. I dream of the day when I will finally throw away the Russian passport," the athlete admitted.
"I'm in touch with Andriy Medvedev, he knows about my situation and he helped me get a certificate from the federation confirming I did play Ukrainian tournaments and that I officially have the results in the archives of the FTU. This will help me a lot when I have the opportunity to get to the consulate as any documents are important now," Veronika said.
Earlier, OBOZREVATEL reported that a Ukrainian tennis player won a tournament in Japan, defeating the Russian champion in the final.
Only verified information on our Telegram and Viber. Don't fall for fakes!