Trending:
Hiding a murderer and a Russian mercenary: how a Ukrainian footballer who fled to Crimea after the occupation lives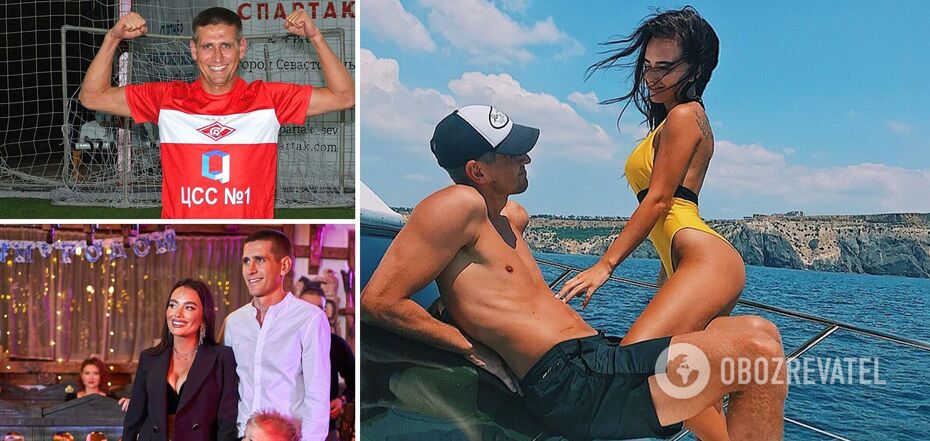 Traitor Yevhen Bredun led a comfortable life in Crimea
While some Ukrainian athletes are training under explosions, far from their families or risking their lives at the front, traitors have received Russian passports and are building businesses in occupied Crimea. A former footballer of Shakhtar, Metalurh Zaporizhzhia and Arsenal Kyiv also hid a Russian mercenary who killed his compatriots.
OBOZREVATEL decided to recall how the former midfielder became an accomplice to the murders and see how comfortable 40-year-old Bredun feels on the occupied peninsula.
Between 2000 and 2009, the Kramatorsk-born Bredun belonged to Shakhtar Donetsk, but he played only 10 matches for the first team, mostly playing for the Pitmen's second team and going on loan.
Yevhen seems to have stuck to Crimea, playing for Sevastopol from 2010 to 2013. He also played for the Belarusian clubs Gomel and Belshina. On 1 February 2014, just before Russia seized the peninsula, Bredun signed a contract with Kharkiv's Helios, for whom he played seven matches.
It also turned out that in 2014, while living in the first capital, Bredun hid a Serbian sniper in his apartment who killed Ukrainians - first, he took part in the occupation of Crimea on the side of Russia, for which he received a state award from the terrorist country, and then fought in Donbas. And the so-called footballer helped Russian mercenary Dejan Berich hide in his apartment in Kharkiv.
"It was all impromptu, my friends, associates and colleagues asked me to help, and I responded," Bredun boasted.
It is not known what Bredun was counting on. However, he apparently realised that nothing good awaited him in Ukraine after such a "heroic act", so he fled to the occupied Crimea.
In 2015, the midfielder moved to SKCHF from Sevastopol and took Russian citizenship. But he soon ended his playing career and became the head of a football school and organiser of propaganda competitions.
Bredun now lives in Sevastopol and is listed as the founder of two football schools on the occupied peninsula - the official Cherenkov football school Spartak Junior and Championka Sevastopol. Cherenkov "Spartak Junior" and "Championka Sevastopol". And, judging by the photos from his holidays both in Crimea and abroad, he does not deny himself anything: yachts, wineries, trendy restaurants and country houses.
Besides, you need to "feed" your family. And Bredun has always been fond of bright women from the world of show business. In June 2009, he married Ukrainian singer and TV presenter Alina Astrovskaya, a member of the national Star Factory and star of Oryol and Reshka. However, the couple divorced three years later due to the footballer's infidelity.
Vladislava, Bredun's current wife, is similar to Alina in type, only more vulgar - with tons of make-up on her Instagram photos and a lot of rather spicy pictures. The girl positions herself as a model and actress. She mainly advertises swimwear, sportswear and wedding dresses from Russian companies.
However, in 2020, Yevhen experienced all the delights of the 'Russian world' in Crimea when he and his family went to the beach of one of the Foros sanatoriums to relax. A security guard with a baton began to drive the Breduns off the beach.
"He came to us, defiantly took my things, caps, glasses, a towel and started moving towards the exit, saying: you will not rest here. He just turned around, crumpled up the things (I wish we had recorded it on video) and just threw them into the water," Yevhen complained to local media.
Then the so-called Cossack, who was acting as a bodyguard, began to force the footballer, who was holding his four-year-old son, off the beach. Bredun, defending himself, knocked the enemy's uniform cap off his head, and the latter began to pull out a bayonet and called for reinforcements. The family was forced to leave.
After the video of the scandalous incident was posted online, an internal investigation was launched against the security guard, and the former footballer promised to contact law enforcement agencies. It is not clear what happened in the end, but the story is very revealing.
The traitor Bredun still receives messages from Ukrainians on social media from time to time.
"Top career. 80 matches for a double. But he helped kill people. Money doesn't smell, does it? Or are you going to talk about one nation?" - commented on the last photo of Bredun in October 2022, Veres press attaché Yevhen Kuchyn.
"F*ck you, Bredun," "Whore," "What kind of a dickhead?" - Ukrainians reacted to the former footballer's new posts.
But for the past six months, Yevhen has not posted anything on his social media.
Earlier, OBOZREVATEL reported that Ukraine's record holder Klochkova fled to the occupied Crimea and is silent about the war after being offended by the president.
Only verified information is available in our Obozrevatel Telegram channel and Viber. Do not fall for fakes!