Trending:
Beat a Russian's face and is waiting for Lomachenko: Ukrainian's rival fought in bars and was offended by Loma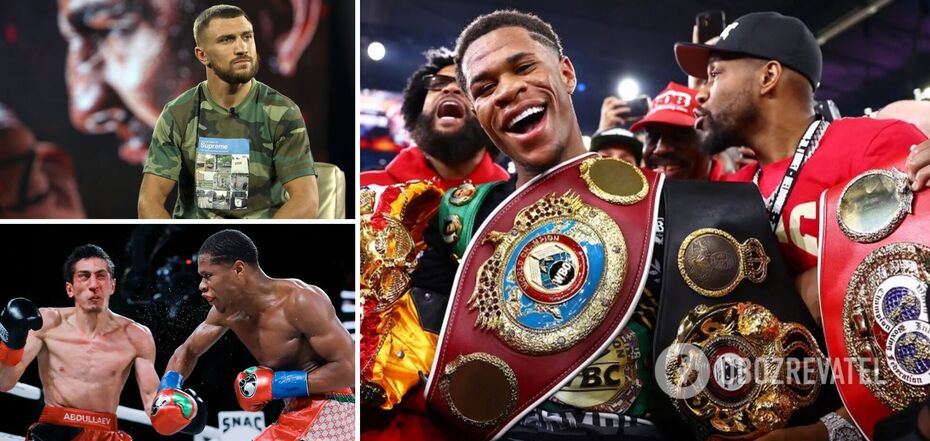 Devin Haney became an absolute champion at the age of 23
On May 20, at the MGM Grand Garden Arena in Las Vegas, absolute world champion Devin Haney (29-0, 15 KOs) will fight Ukrainian Vasyl Lomachenko (17-2, 11 KOs), which may put an end to Loma's hopes of becoming the strongest lightweight boxer in the world. There is a 10-year difference between the rivals and 10 fights in the pro ring, with the younger Devin fighting more often. "Dream" Haney also has a small grudge against Vasyl from 2019.
The fight involving the Ukrainian is being sold to fans as a confrontation between the two best boxers in their category, leaving the WBA regular belt holder Jervonta Davis out of the picture. The former champion in three weight categories, Lomachenko, in this fight symbolises an entire era whose time has almost passed, and the title of absolute still does not exist. The 24-year-old Haynie is the face of a new generation, but he has already managed to win four major belts and the lightweight crown.
Everyone in Ukraine probably knows about Vasyl. And even the things they don't really want to know. For example, his love for the Moscow Patriarchate. But what is unique about Haney, who, at the age of 23, has already achieved the same absolute that Lomachenko can only dream about?
1. FATHER BEHIND HIM: America might not have had its WBC, WBA, IBF and WBO champion if little Haney hadn't started fighting at school at the age of seven. Frustrated by his son's behaviour, his father Bill Haney took the boy to the boxing gym. And he practically stayed there with him. He watched the work of various trainers, gained experience and began to train Devin himself.
The father was by his son's side in the most difficult times and in the moments of great victories. "We have a good relationship because we respect each other. All these years we have grown up together," says the young boxer. Bill Haney is still working with Devin, although in 2021 he said that he was going to find a new mentor for his son and take care of his younger children.
However, from time to time, other experts share their experience with Haney Jr. For example, "Dream" worked with the father of the undefeated retired champion Floyd Mayweather. And since 2020, he has been training with Mr Money himself, Mayweather Jr.
"Every time Floyd is able to give me advice and work with me, I have to thank him for that. Floyd knows so much about boxing! He's achieved so much and he's been in the sport for so long, he became world champion the year I was born, so there's so much he can teach me and I've learnt a lot already," Devin recalled.
By the way, Devin's style is also becoming similar to Mayweather's. According to media reports, he received about $6 million in fees for two fights with Australian George Kambosos. He spent part of the money on massive jewellery and bought a gold Patek Philippe watch. He also added more branded items to his wardrobe.
2. FLEW PAST RIO: While Lomachenko is a two-time Olympic champion, Devin had to give up his dream of competing at the 2016 Rio de Janeiro Games due to changes in the rules. Helmets were removed from the fighters and it was decided that the participants had to be at least 18 years old at the time of the competition in Brazil. And Haney was to celebrate his 18th birthday only in November.
"I was preparing for the Olympic Games. I ploughed at the national team training centre, travelled the world, took part in tournaments in Europe. I had only the Rio Olympics on my mind. I was away from my family, doing my homework online every day. And then they just decided to make changes to the rules and revised the age barrier. When I was told about it, my heart was broken. I had always dreamed of representing the country at the Olympics," Devin recalled.
Then Haney decided not to waste time waiting for the next Games in Tokyo 2020, and in 2015 he decided to turn professional: "Since the road to the Olympics was closed to me, I announced that I was turning professional and would adapt my style to the realities of pro boxing."
3. FIGHTING IN MEXICAN BARS: At the age of 16, when other boxers were still competing in the junior ranks, Devin planned to make his professional debut in Mexico, as he was still too young for tournaments in the United States.
"Many people talked me out of it. Everyone was afraid of local Mexican corruption, saying that I would simply be robbed by judges. Now the situation has changed, but back then there were a lot of dirty decisions. I had to wait a little bit," Haney told The Rounds with Chris Algieri.
The American's patience lasted only until he turned 17. After that, he made his professional debut in Mexico: "It was just crazy. I didn't know what to expect. The fight took place in a bar. There were about 600-700 people there. Everyone was drunk... The whole crowd was cheering furiously against me. Now I think it was this experience that toughened me up and helped me become who I am..."
4. THE DESTRUCTION OF THE RUSSIAN. In total, Haney fought 10 fights in Mexico, and since June 2017, he has boxed only in the United States. However, he made his home debut a year earlier on the undercard of the third superfight between Manny Pacquiao and Timothy Bradley at the MGM Grand Garden Arena. And the American won his first major title in September 2019, when he defeated the then unbeaten Russian Zaur Abdullayev.
It's worth noting that Abdullayev had boxed only at home until then. But as soon as he left his comfort zone, the Russian's true level came out. On 13 September 2019, in New York, the Mexican-trained Devin attacked the Russian fighter in the first rounds so hard that after the fourth round, Zaur's team refused to continue the fight.
During the break before the fifth round, the Russian team's doctor preliminarily diagnosed Abdullayev with a fractured cheekbone. In addition, the Russian boxer had a broken nose. Haney won the WBC interim lightweight title.
5. MOST AVOIDED: Bob Arum considers Devin to be boxing's brightest young superstar, as well as a sensational fighter. And how can you not agree, because at 21 the guy was already a world champion, and at 23 he achieved the absolute status of lightweight king. And he "knock down" serious guys, some of whom had no defeats at all before meeting him.
Devin defended his belt against undefeated rival Alfredo Santiago and former world champions Yuriorkis Gamboa, Jorge Linares and Joseph Diaz Jr. And then he wasn't afraid to go to Melbourne and take the championship belts from George Kambosos in front of more than 40,000 fans. So fear is clearly not about Haney.
The American challenged Lomachenko and agreed to fight all the top fighters in his category, but the rivals tried to postpone the fight. The "interim" WBC champions, compatriots Joseph Diaz and Ryan Garcia, also refused to fight Haynie. In this regard, Devin called himself the most avoided boxer.
6. GIVES LOME A CHANCE: After WBC champion Vasyl Lomachenko was transferred to the franchise, Haney got the Ukrainian's full vacated title without a fight. However, according to the American, he had been seeking a fight with Vasyl since 2019. But Loma never accepted the challenge.
"Lomachenko is a good fighter and a future Hall of Famer. I'm not taking anything away from him and I'm not taking away from what he's done in boxing. Although he didn't give me a chance when I challenged him in 2019, I won't be petty. This is a fight that the fans really want. And I made it possible," Devin said generously, while accusing Loma of being petty between the lines.
Haney is confident that he has become twice as good after his rematch with former world champion Kambosos, and it won't be easy for Vasyl: "Believe it or not, the better my opponent is, the better I perform. I know that Lomachenko has an extremely high boxing IQ, and on May 20 I will show the world that I am the best fighter on the planet. I am ready to defend my titles in the most devastating way possible."
Devin doesn't particularly like to play backstage games and doesn't bargain for every cent like Tyson Fury. Reputation and a place in history are of key importance to him.
"Of course, there are bigger fights. I could sit back and wait for them, but I care about my legacy. Loma has a reputation. He used to be the best fighter regardless of weight class," Boxing Scene quoted Haney as saying.
Finally, the PPV of the fight overseas was priced at $59.99 and will additionally be available via cable and satellite pay-per-view providers. Tickets, promoted by Top Rank in association with Devin Haney Promotions and Dibella Entertainment, start at $104.
Earlier OBOZREVATEL reported that Haney laughed at Lomachenko's words before the fight.
Only verified information is available in our Obozrevatel Telegram channel and Viber. Do not fall for fakes!