Trending:
An impressive documentary about the Ukrainian national volleyball team was released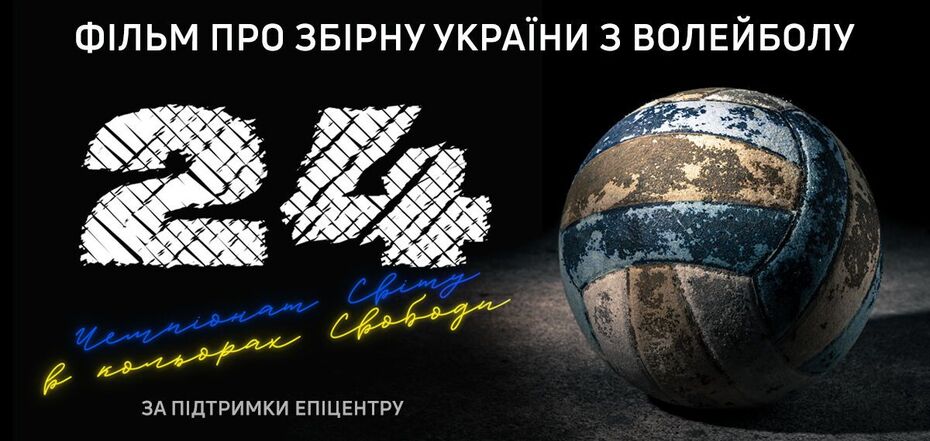 An inspiring documentary film "24" about the life and struggle of Ukrainian volleyball players after the outbreak of large-scale war will be shown on the media service Megogo.
The new film shot by Taras Gerega and Pavel Cherepin with the support of Epicenter will premiere on Megogo on May 2. Even before its official release in Ukraine, the film has won a number of prestigious awards. The film was awarded at the International Sports Film Festival in France and the Izmir International Refugee Film Festival, both held in Turkey.
"In spite of a full-scale invasion that completely changed the habitual life of all Ukrainians without exception, last year our volleyball players achieved the most outstanding result in the history of the country. Not only did they finish in the top eight teams in the world, but they also got a historic chance to qualify for the Olympics. I am sure that the world should know about the heroism and achievements of the Ukrainians," says co-author of the film Taras Gerega.
The documentary begins with the incredible story of Ukrainian brothers who dreamed of becoming world volleyball stars but became forced refugees after the invasion of February 24. Their personal struggles and victories are intertwined with the journey of the Ukrainian volleyball team, which gets a chance to compete in the World Championships as the 24th global ranking team, and eventually gets a chance to qualify for the Olympics in the 24th.
"As a filmmaker, I have always been passionate about telling stories that can inspire and influence people's lives. In 24, I wanted to immerse myself in the life of a family who had to leave their home because of the war, but continued to play sports. As a producer, I was proud to witness the great journey of the Ukrainian volleyball team to the 2022 World Cup, the best result in history to date. As a Ukrainian, I would have preferred not to have such coincidences and events as we encountered during the making of "24." But if we find ourselves in such circumstances, we have to do our best to tell the world the true story," explains Pavel Cherepin.
Previously, they made films "Special Atmosphere," "Five Finals" and "The Line of Attack," which have received millions of views in Ukraine, as well as awards from international documentary film festivals