Trending:
A descendant of the world's strongest man was killed in the fighting near Kreminna: he was raising two daughters after his wife's death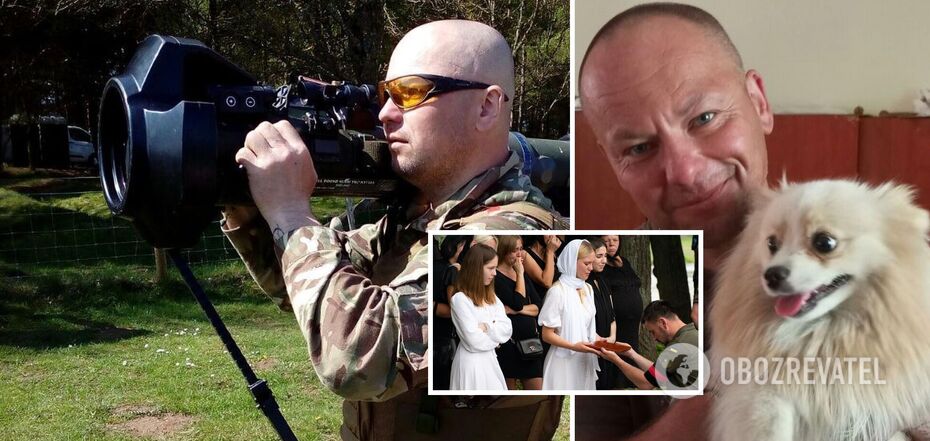 Ivan Zavolskyi served in the airborne assault troops
Fierce battles with the Russian occupiers near Kreminna claimed the life of Ukrainian defender and weightlifter Ivan Zavolskyi. The senior rifleman of the 4th Air Assault Division of the 95th Air Assault Brigade died on 25 June 2023 as a result of artillery shelling in the Luhansk region.
The fighter from Uzhhorod was a descendant of the strongest man on the planet in the twentieth century, Ivan "Croton" Firtsak, who knocked down opponents with a single blow, bent souvenirs from nails with his hands, and conquered the Queen of Great Britain with his strength.
One of the heirs to the Ukrainian Croton, Ivan Zavolskyi was born on 13 June 1980 in Uzhhorod in a close-knit family with many children. He grew up with three sisters and spent a lot of time playing sports. Ivan was very proud of his kinship with Firtsak and was involved in weightlifting himself - he won and became a prize-winner in various competitions and earned the title of candidate master of sports.
But sport did not become Ivan's life's work, although it was an important part of it. The Uzhhorod resident turned out to be a talented carpenter. Those who knew Zavolskyi said that he had golden hands. He worked abroad for some time and constantly improved his professional skills.
At the age of 21, Ivan became a father for the first time, and 9 years later, his second daughter was born. He has always cared for his girls - family has always been a meaning and motivation for the Uzhhorod strongman.
"However, his life was not easy: he buried his wife at the age of 37 and raised his two daughters with dignity. At the same time, he never refused to support and help those who turned to him, even in the most difficult times he was able to support them both in word and deed. Later on, fate gave him a meeting with a woman who made him happy again," the Uzhhorod City Council said in a statement.
From the first days of the full-scale war with Russia, Ivan became a volunteer and did a lot of work to help the victims of Russian aggression. However, at some point he decided that he no longer wanted to be an observer. The weightlifter went to the frontline to defend Ukraine and his family with arms in hand.
In the Armed Forces of Ukraine, the Uzhhorod resident took the call sign "Tank", which fully corresponded to his character - even at the front, Zavolskyi's comrades felt like they were behind a stone wall. On 13 June, the defender turned 43.
On 25 June, Ivan fought his last battle in Luhansk region... The senior rifleman of the 4th Air Assault Division of the 95th Air Assault Brigade was killed in action near Kreminna, coming under enemy fire.
The Ukrainian defender is survived by two daughters - Anastasia, the eldest, and Valeria, the youngest.
"My father was a bright man, kind and loyal. He had a difficult fate, and not everyone could have withstood it. He was strong, the strongest person in my eyes. He is my Croton. My father. My support and backbone. My defender. My Hero, my Pride and my Soul. Together with him, a piece of my heart stopped, which will forever belong only to him," Anastasia Zavolska wrote after her father's death.
"Everything happens in life. I resented him and insulted him. He was not a perfect father, I was not a perfect daughter. But I always knew that he loved us with all his heart. And I love him infinitely. We may not have said it to each other, we may not have been able to show our love, but it is true and there is no other way," the eldest daughter emphasised.
Anastasia said that her father always wanted his daughters, his princesses, to be proud of him. He wanted to be their hero, he wanted to prove that they had the best father.
"It's a pity that I only realise this now. We are proud of you, Dad. And we will do everything to make you proud of us. You left me our greatest treasure and I know you have no doubt that I will keep it safe. You are our angel and will always be with us. As long as my heart beats, I will always be proud and remember you," Anastasia promised.
Family and friends, friends and military personnel, the mayor of Uzhhorod, Bohdan Andriyiv, clergy and community members came to pay their last respects to Ivan Zavolsky in Uzhhorod. After the funeral liturgy, the funeral procession went to the Hill of Glory, where the hero was buried with military honours.
Earlier, OBOZREVATEL told you about a Ukrainian strongman who was "buried" in the USSR. The incredible "Croton" overpowered a bull with his bare hands and pierced the chest of the British champion.
We also reported that the World Cup medallist died at the front, having voluntarily joined the Armed Forces.
Only verified information is available in our Obozrevatel Telegram channel and Viber. Do not fall for fakes!