Trending:
Zamioculcas will come to life and grow: a life hack with a tablet will give the plant a new life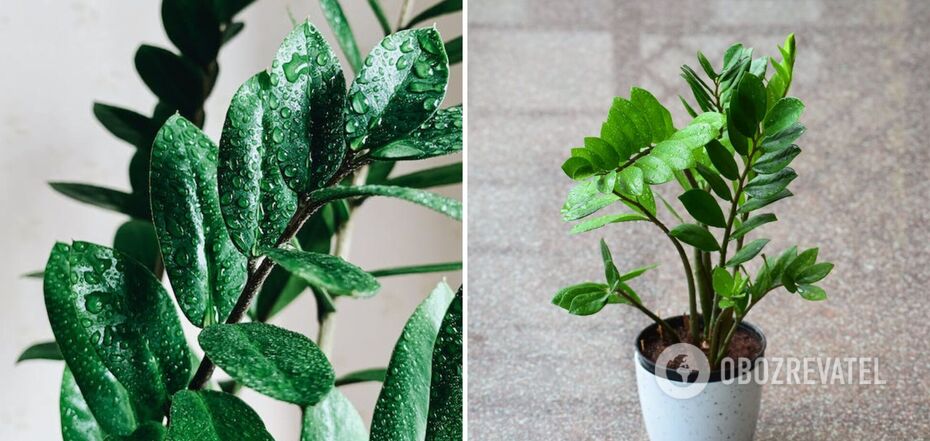 How to feed zamioculcas
Zamioculcas is a perennial plant, also called the dollar tree. Its green leaves are attractive because of their smoothness, but due to improper care or unfavorable conditions, the flowerpot can turn yellow and then die altogether.
OBOZREVATEL has found effective tips to help avoid this. Zamioculcas should not be transplanted frequently because it is difficult for the plant to adapt to new conditions.
To keep the leaves bright green and the roots actively developing, you need to fertilize the flowerpot once a month.
Cinnamon
This seasoning has a large amount of nutrients, which includes vitamins A, B1, B6, C, potassium, phosphorus and amino acids, so this fertilizer will enrich the soil. Dissolve one teaspoon of cinnamon in one liter of warm water and leave the mixture to steep for four hours.
Then add two tablets of asparagus (potassium and magnesium). Mix everything thoroughly to dissolve the medicine and water the flowerpot.
Humate
This is an organic fertilizer that contains potassium, copper, magnesium, and phosphorus. It is a complex set of substances for the full development of the plant. Mix 10 grams of fertilizer in one liter of water. Then pour out 20 mg of the mixture and dissolve it in two liters of water.
You can also add one succinic acid tablet for greater effect. Mix everything until completely dissolved and water the tree.
Earlier, OBOZREVATEL published the simplest indoor flowers that do not need to be constantly watered.
Subscribe to OBOZREVATEL 's Telegram and Viber channels to keep up with the latest developments.