Trending:
You've been storing onions wrong: the right way that few people know about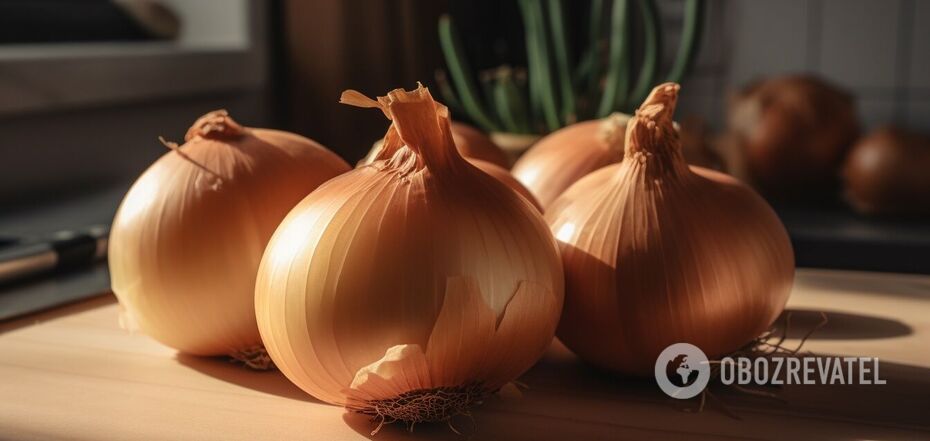 How to store onions
Hosts often face the problem when fresh fruits and vegetables begin to spoil quickly, despite the fact that they were purchased only a few days ago. Most people make mistakes when storing onions and do not even realize it.
We are used to bringing products home, we immediately put them in the refrigerator, but it can only hurt. OBOZREVATEL collected tips that will help to keep onions as long as possible fresh.
Humidity and light have a negative effect on the vegetable. This can lead to the appearance of mold and sprouting of onions. Therefore, it should be stored in a dry, dark place where there is air circulation. The refrigerator is not the best option for storage, it is better to put onions in a dark closet or basement.
There is also another important rule to follow if you want the vegetable to be fresh. Never store potatoes next to onions. Potatoes can quickly begin to rot, and this process can transfer to other vegetables nearby, so you need to avoid such a "neighbor".
If you don't remove onions from the plastic bag after coming from the store, this will also harm the vegetable. Due to the lack of air circulation and increased moisture, onions begin to rot or mold can appear on them. But a paper bag is fine for vegetables. It will provide better air flow and reduce the moisture level.
You can even use old pantyhose to store onions for a long time. To do this, place the vegetables, tie the tights and hide them in a dark place.
Temperature plays an important role in storage too. If you want onions to stay fresh for a year, the temperature should be no higher than 10 degrees Celsius. At higher temperatures, the vegetable will only last a few weeks.
Earlier OBOZREVATEL published practical tips that will help to avoid gnats when storing onions.
Subscribe to OBOZREVATELchannels in Telegram and Viber to keep up to date.