Trending:
"You need to bow to Mother Russia": Simonyan's propagandist attacked "ungrateful" Armenians and got a response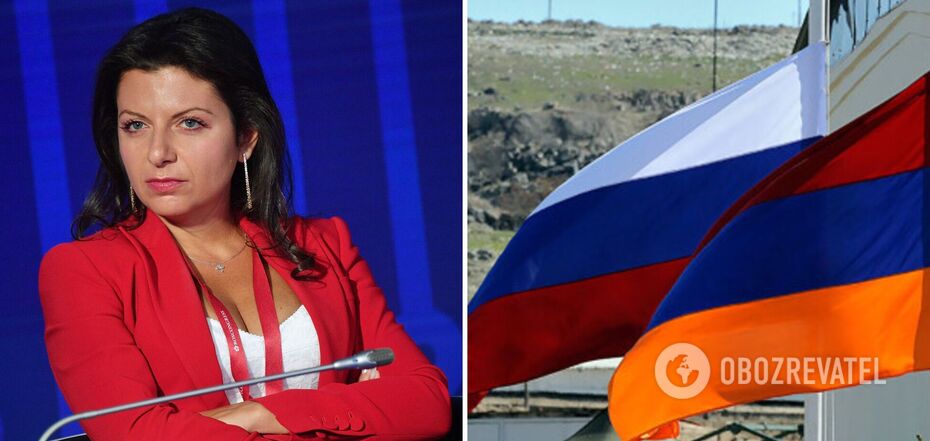 Simonyan said that Armenians should ''bow down'' to Russia
Russian top propagandist Margarita Simonyan said that Armenians should "bow down" to the terrorist state of Russia. According to her, this nation allegedly owes Russia the fact that it still exists.
The Kremlin supporter and ethnic Armenian spoke about this on one of the central Russian TV channels, Russia 1. At the same time, she called Armenian Prime Minister Nikol Pashinyan a Judas and a "c*nt," saying that the people did not elect him (to watch the video, scroll to the end of the news).
"We should bow to Mother Russia for the fact that the Armenian people were saved at all in the 19th century, when Armenia voluntarily became part of the Russian Empire. Long ago, the entire nation would have been destroyed if not for Russia," the propagandist said.
She also drew an analogy with the Ukrainian Crimea, saying that Nagorno-Karabakh is as "sacred" to Armenia as Crimea is to Russia.
In the comments to the propagandist's post on the social network X (exTwitter), users reminded that Armenians were an established nation long before the Slavs appeared and advised Simonyan to leave Russia to stop "destroying the country."
Anti-government demonstrations continue in the Armenian capital Yerevan. Citizens who came to the walls of the parliament are demanding the resignation of Prime Minister Nikol Pashinyan over his decisions on the situation in Nagorno-Karabakh. As of the evening of September 21, police detained 46 citizens.
The demonstration was triggered by Pashinyan's position in response to the sharp escalation of the situation in Nagorno-Karabakh. The Armenian prime minister said that he would not allow the country to be drawn into a war that was being "fomented by third parties." The politician's reaction caused outrage among Armenians, and they came out en masse to the government building in Yerevan.
As reported by OBOZREVATEL:
- On the morning of September 19, Azerbaijan launched "local anti-terrorist measures" in Nagorno-Karabakh. In turn, Armenia called the fighting in the region a "large-scale aggression" and announced that it was convening an emergency meeting of the Security Council.
- Pashinyan once again stated that Armenia could no longer consider Russia a guarantor of its security amid strained relations with Azerbaijan over Nagorno-Karabakh. After the full-scale deployment of troops to Ukraine, the Kremlin is losing ground and weakening, which cannot but affect relations with former allies.
Only verified information on our Telegram channel Obozrevatel and Viber. Don't fall for fakes!