Trending:
You didn't even know it: how ordinary chestnuts can be useful for housewives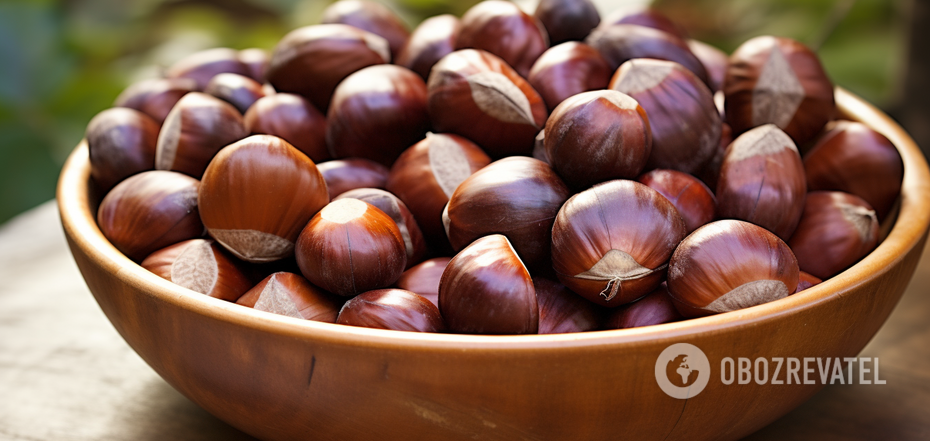 How can chestnuts be used
Autumn is associated with rain, rustling leaves underfoot, and, of course, chestnuts. Who among us hasn't gone to parks as a child to collect fallen chestnuts to make funny little men and various autumn crafts and applications?
However, few people realize that chestnuts can be useful in everyday life. The Sun publication told about interesting life hacks.
Insect and pest repellent
Chestnuts will help to scare away moths and other pests. Experts advise putting a few chestnuts in a closet or wardrobe. When they dry, they will release chemicals that insects don't like very much. This way you can save things from moths.
Moreover, people say that chestnuts scare away spiders (this is not scientifically proven, of course). So a few chestnuts on the shelf will definitely not do any harm, and arachnophobes can even be saved from fright and unnecessary stress.
Detergent for cleaning
Common chestnuts can be used to make a detergent. Horse chestnuts contain a chemical similar to soap that is used for cleaning.
The crushed chestnuts should be placed in a jar of hot water for at least 12 hours. Then carefully strain the milky liquid and use it as a cleaning agent. Important note: do not use this liquid on light surfaces or fabrics.
Autumn decorations
In the fall, you want to create coziness and comfort at home. Chestnuts are the perfect addition to seasonal decorations. Chestnuts are used to create an autumn wreath by placing them on a ring along with ivy and orange leaves. All this is attached to the base with glue or wire.
There are many options for decorating, for which, in addition to chestnuts, you can take acorns, pine cones, branches and leaves.
Children's toys
Of course, chestnuts are used to make children's games, applications, and crafts. In the United States and Western Europe, there is an old game called "chestnut battle". Choose a sturdy chestnut, make a hole in the middle with a screwdriver or metal skewer, and thread a rope about 50 cm long through it. Tie knots at both ends. Then one player throws their "puck" and the other swings theirs to hit it. The one who breaks the opponent's chestnut wins.
Earlier, OBOZREVATEL told you how to bring hanging flowers in a basket to life in the fall.
Subscribe to OBOZREVATEL's Telegram and Viber channels to keep up with the latest developments.