Trending:
Wool will be everywhere: which breeds of cats shed the most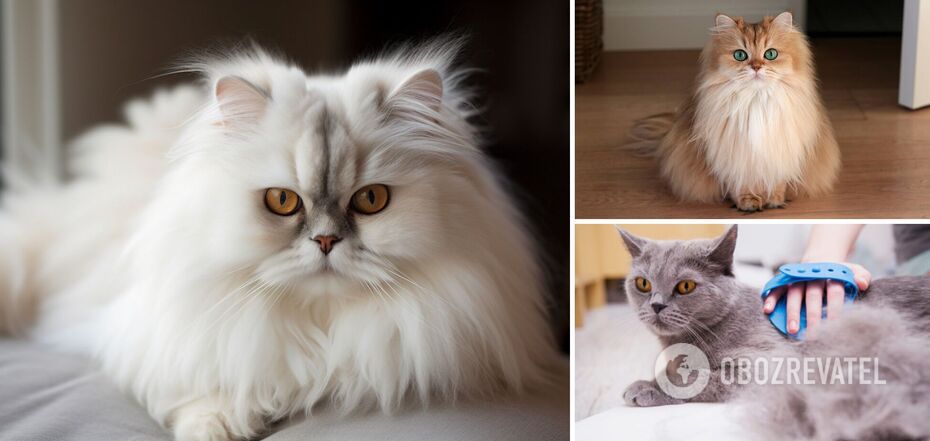 Cats fill life with joy and positive emotions. However, many people are afraid to get a pet because of the excessive amount of hair that will then fill the whole apartment. Moulting is a natural process that simply cannot be prevented. But proper care will make it less noticeable.
People prone to allergies are not advised to have animals with too fluffy hair. What breeds of cats shed the most, read the article on OBOZREVATEL.
Persian cat
Persian cat sheds no matter what time of the year. Its hair will indeed be everywhere: on things, on the floor, in the closet, in the bed, and even in the food. Persian cats need to be brushed regularly with a special brush, otherwise, the hair will bunch up in lumps.
Maine Coon
Large Maine Coons have a luxurious coat. Maine Coons do not moult as often as, for example, Persian cats, but when they begin to moult, they moult very heavily. In the off-season, the animal loses a thick undercoat. Maine Coon cats should be combed and bathed regularly, always using special cat brushes and shampoos.
Rhegdol
Raregols have long, soft, and silky coats. Redgols also change their undercoat in the spring and fall, so they are prone to heavy and sudden molting.
Siamese cat.
The Siamese cat has a short and silky coat. Often, when choosing short-haired pets, owners assume that such animals will shed less. This is not the case with the Siamese cat, which sheds all year round and very heavily.
British Shorthair Cat.
Another paradox is that short-haired "Brits" will give you a lot of hair in the house. These cats have very thick coats and will especially shed during the changing seasons. British cats can be combed out with a brush or a special glove.
Sphynx
Just because sphynxes have no fur does not mean that these cats do not molt. Sphynxes shed their skin, which begins to peel off. These scales can even cause allergies. Sphinxes need regular bathing and moisturizing of their skin.
Previously, OBOZREVATEL told what foods you should not feed cats and why veterinarians advise not to mix home and store food.
Subscribe to OBOZREVATEL channels in Telegram and Viber to keep up with the latest news.