Trending:
Why you should put glasses of water and salt in the microwave: housewives' tricks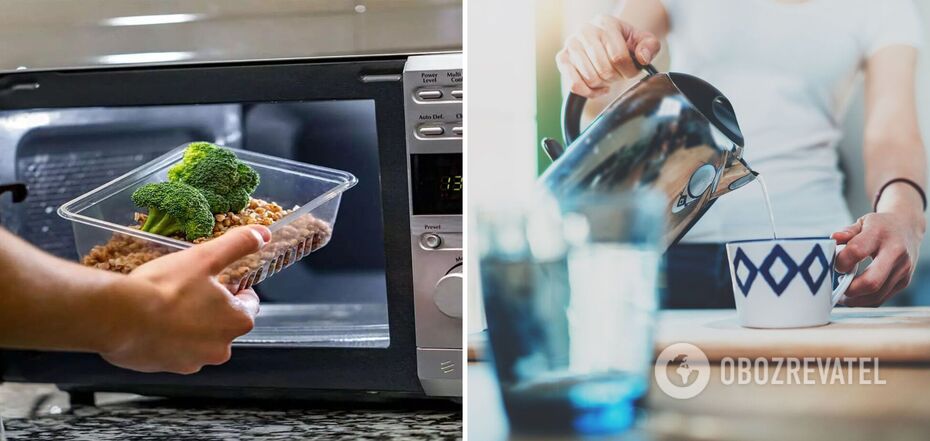 A glass of water will protect your microwave from damage
Not everyone likes food heated in the microwave because it often turns out too dry. This is due to the way the oven works. That's why it's recommended to put a glass of water inside the chamber with the food. But this is not the only reason why you need to put water in the microwave. It will also be useful to put salt in it.
OBOZREVATEL found out what these life hacks are all about. Simple steps will save you unnecessary problems.
A glass of water
Firstly, when food is heated, the water in the glass or cup also heats up. It makes the atmosphere inside the microwave a little more humid, which makes the food more juicy. But this is not the only advantage of this neighbourhood.
Microwave ovens are designed to operate with a full chamber. If it is left empty or even barely filled, it will quickly lead to a breakdown of the appliance. That's why, if you're heating a small amount of food, such as a single slice of pizza, a container of water will create the load necessary for correct operation.
And don't be afraid that it will soak your food to a state of porridge. During the 30-60 seconds that the food spends in the heating chamber, the water will not have time to boil and fill the space with excessive amounts of steam. The humidification will be very slight, but sufficient.
A plate of salt
In fact, there is no need to heat salt in the microwave. This substance can be used in this way because of its absorption properties.
The thing is that the food you put in the oven has an odour that accumulates over time and makes it unpleasant to open the microwave. To get rid of this stench, you need salt. Leave it inside the closed appliance overnight. It is better to sprinkle the salt in a thin layer, but so that the surface is as large as possible. This way, the product will work better. By morning, the salt will remove all extraneous odours.
Earlier, OBOZREVATEL told how easy it is to clean a microwave from complex dirt and old grease.
Only verified information is available in our Obozrevatel Telegram channel and Viber. Do not fall for fakes!