Trending:
Why you can't use dishwashing detergent in the washing machine: debunking a myth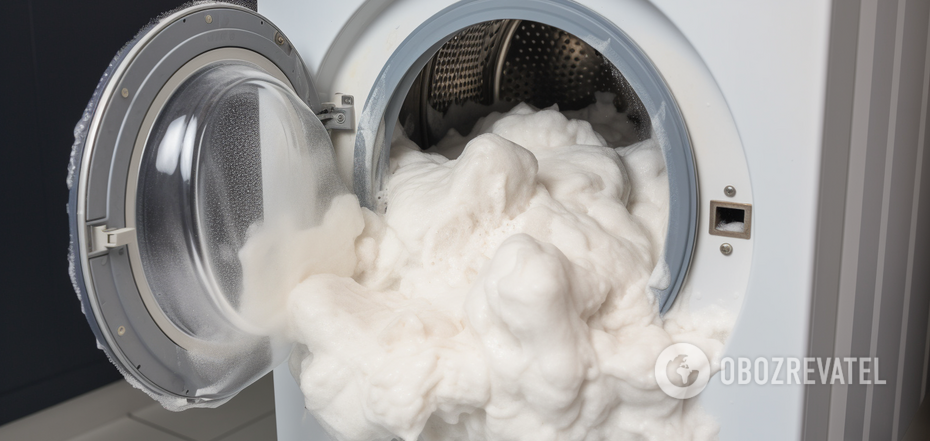 Excessive amount of foam in the machine
Some experts advise using dishwashing liquid when washing - this is supposedly a cheap and effective life hack, and an incredible amount of foam will quickly clean clothes from dirt. In fact, this is nothing more than a myth.
Pouring dish detergent into the machine drum or container is generally not recommended. How it can harm the machine and things, told the publication Lifehacker.
On the network is gaining popularity ambiguous flyhack: a tablespoon of dishwashing detergent is poured on a clean cloth, which is put in the washing machine with a lot of clothes - they say, so things will shine even without bleach. Actually, this is a bad idea.
Why you can not use dishwashing detergent for laundry
Appliance breakdowns
Soaps and dishwashing detergents can be pre-treated for stains on clothes, as the foam "cuts through" grease and removes dirt. However, dishwashing detergents are not designed for use in washing machines.
Laundry experts at Consumer Reports say excessive amounts of foam can damage the appliance. Washing machines will start wasting extra water, laundry will take much longer and it is common for the foam to start spilling out the sides. Over time, foam residue will accumulate inside the drum, creating an unpleasant odor, reducing efficiency and leading to excessive humidity (as a consequence - mold growth).
Irritation of sensitive skin
Dishwashing detergent may contain fragrances, harsh chemicals or other irritants. Residues of these substances will settle in the fibers, leading to irritation of sensitive skin or even allergies.
Clothing damage
The foam accumulating inside the drum can coat the clothes with a soap film. The fibers will become stiff as a result. Powders are designed not only to clean fabrics, but also to protect fibers during the washing process. And dishwashing detergents remove grease from hard surfaces such as glass, ceramics and plastic. Using detergent to wash delicate fabrics can damage the fibers.
Earlier OBOZREVATEL told how to get rid of the smell of mold and musty towels during washing.
Subscribe to OBOZREVATEL channels in Telegram and Viber to keep up to date.