Trending:
Why you can't eat cheese on board an airplane: many people don't know this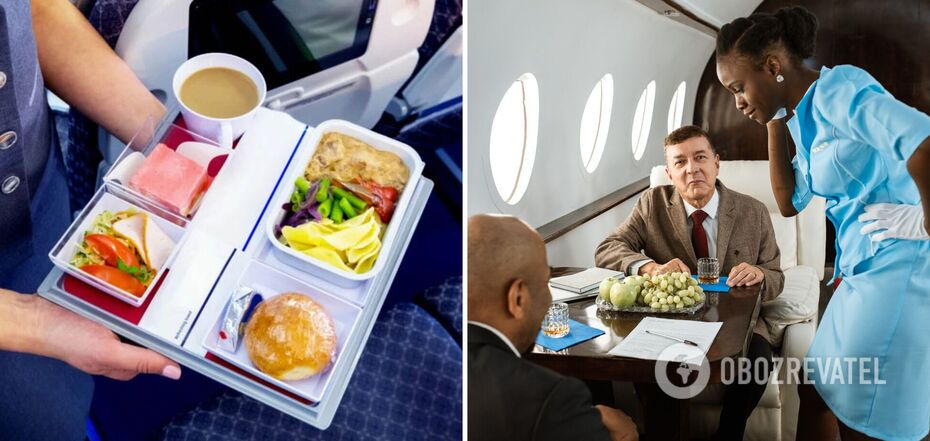 Food on an airplane can be spoiled
Airplane food can always be better unless you are traveling in business class. According to the crew, some snacks on board, which are included in the ticket price, are dangerous to eat at all. We are talking about cheese, which is often given together with a drink, crackers or a bun.
Products on the airplane are not always fresh, so you should not eat cheese. Flight attendant Jasmine King, who has worked for the airline since 2015, said this in a comment to The Sun.
"Stay away from cheese sandwiches as they are not very fresh. They are mostly shelf-stable foods," the flight attendant explained in the post.
To know wha other products are not recommended to eat while traveling by airplane, read OBOZREVATEL material.
Food that can be stored at room temperature for a long time can not be considered high-quality and fresh. Flight attendant King also advises to avoid other salty snacks such as nuts and pretzels. They dehydrate the body during the flight.
Food is not cooked directly on the airplane, but brought in containers from restaurants. Pasta is one of the dishes that can be not only unpalatable when reheated but also spoiled. Fritz Gross, director of culinary excellence at LSG Sky Chefs Asia Pacific, in a commentary to CNN said that taste is not a priority for people preparing airplane food. Hygiene and passenger safety are much more important. The chef advises other airlines not to cook pasta as this dish can spoil very quickly and cause poisoning.
In most airports, fast food outlets are available in the Duty Free area, making it easy to get a hamburger or donuts. Fatty foods strain digestive system, causing stomach pain and can also make you feel sick or nauseous. Nutritionist Serena Poon told Insider, "These types of foods can slow digestion and cause drowsiness."
Cruciferous vegetables include bok choy, cauliflower, Brussels sprouts and regular cabbage. These vegetables are considered a superfood because they are packed with carbohydrates and vitamins, so they are great for dieting and proper nutrition. However, these foods can cause bloating and intestinal discomfort if eaten on the airplane.
Beverages with caffeine are also not recommended to drink before and during the flight. Consuming large amounts of coffee can cause frequent urination and dehydration. An alternative drink can be herbal tea with peppermint and ginger. These products contribute to easier digestion and good sleep.
Earlier OBOZREVATEL shared the most budget-friendly destinations for travel in 2023, where a week's vacation for two can cost only $400.
Only verified information from us in Telegram-channel Obozrevatel and in Viber. Do not fall for fakes!