Trending:
Why salt a dishwashing sponge: the secret of experienced housewives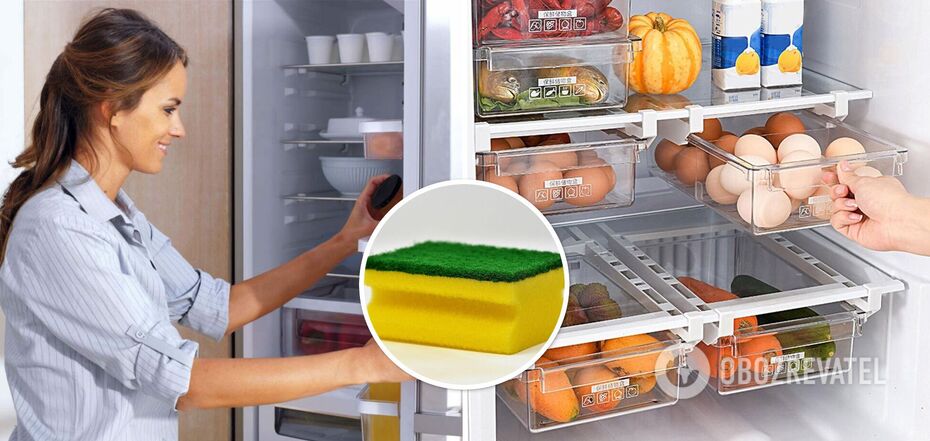 A sponge with salt neutralizes odors and excess moisture
From the unpleasant odor in the refrigerator will help to get rid of folk methods. For example, you can make a soda solution, use vinegar, coffee or even raw rice.
But there's one very simple flyhack that will quickly get rid of pungent odors. To do this, you don't even have to prepare solutions or mixtures. OBOZREVATEL analyzed why experienced housewives pour salt on a dishwashing sponge and put it in the refrigerator.
Humidity and stale products are the main causes of unpleasant odor inside the refrigerator. The fact is that plastic has the ability to absorb and amplify odors, so you need to act immediately.
You will need a clean, dry dishwashing sponge. Using scissors or a knife, carefully make a longitudinal cut. Pour table salt into the resulting pocket. The amount of salt depends on the size of the sponge, usually one tablespoon is enough.
Put the sponge on the bottom shelf. After a while, it will absorb excess moisture and neutralize unpleasant odors. Change the sponge with salt regularly.
If after washing the refrigerator we still feel the odor of stale, you can use a lifehack with ground coffee or lemon. Pour ground coffee into a shallow cup and leave it in the refrigerator for 3 days. You can also use the juice of half a lemon.
Earlier OBOZREVATEL told how to clean the refrigerator from the inside with toothpaste and cider.
Subscribe to OBOZREVATEL channels in Telegram and Viber to be aware of the latest events.